The North Side State Bank operated from 1920 to 1927, when state auditors ordered it closed in the wake of a complicated financial scandal involving two banks, three insurance companies, and a former Springfield resident who may have absconded with hundreds of thousands of dollars.
The bank building at 719-21 North Grand Ave. E. later served as the North Branch of Lincoln Library for decades. The library closed due to mold in 2005, and the building sat vacant for a decade until an insurance office opened there in 2015.
North Side State Bank was one of two small banks founded by James W. Jefferson (1847-1924), a banker, insurance investor and financier, in 1920. (Jefferson was universally known as "Col. Jefferson," although it's unclear how he obtained the rank.)
Jefferson saw opportunity in neighborhood banking. When he announced plans for his first bank, Jefferson State Bank at 1117 South Grand Ave. E., in March 1920, the Illinois State register reported:
It is the intention to conduct a regular commercial banking business though there will be a department for savings accounts. The location has been chosen with a view to affording banking accommodations to the large manufacturing concerns in the southeast part of the city and their 3,000 employees as well as to the merchants in that rapidly growing section of the city.
To demonstrate those intentions, directors of the new bank included two prominent southeast side manufacturers — I.A. Weaver, president of Weaver Manufacturing, and David Fogger, general superintendent of the Racine-Sattley Manufacturing Co.
In June, Jefferson announced he also had obtained a charter for the North Side State Bank; one of his co-incorporators there was Jacob Bunn Jr., a co-founder of Sangamo Electric Co., only two blocks east of the new bank. North-ender Nicholas Amrhein of Amrhein Bakery was named a bank director.
In July, Jefferson obtained a permit to build the bank building, at an estimated cost of $16,000; half was to house the bank, while a store was to occupy the other half. An open house on Nov. 4 heralded the institution's grand opening.
Jefferson's businesses were family operations. After his death in 1924, a son, Roy Jefferson (1881-?), became president of Jefferson State Bank, and a son-in-law, Roy Z. McKown (1884-1951), was president of North Side State Bank. Each also was vice president of the bank the other headed. Another son-in-law of Col. Jefferson, Warren Lewis (1881-1946), also held top positions in both banks.
Col. Jefferson had a number of other business interests, among them the Springfield Stockyards, Jefferson Printing Co., and the Tuxhorn coal mine. He also owned a substantial interest in Lincoln Casualty Co., the firm that led, indirectly, to the downfall of North Side Bank. Lincoln Casualty had been founded in the 1910s to sell auto insurance (one of the founders was McKown), but expanded its business lines after Jefferson took control of the firm.
Also among Lincoln Casualty's co-founders was Charles P. Summers (1882-1955), a former dry goods manager at Bressmer's Department Store. He was a vice president of Lincoln Casualty when he moved to California in 1922. There, Summers took control of two more firms, Union Indemnity Exchange and Seaboard Casualty.
Newspaper stories said Summers disappeared about the same time – in February 1927 – that both companies were declared insolvent. The two firms' total shortfall came to more than $500,000, according to the reports.
Exactly how the California companies' problems caused the downfall of North Side Bank is not clearly spelled out in local newspaper files. State auditors ordered North Side to close because of insolvency questions on March 3, 1927. Though in better financial shape, Jefferson Bank was closed the same day to forestall a possible run on the bank by depositors spooked by the problems of its sister institution.
North Side's assets apparently were disproportionately connected to those of Lincoln Casualty, three of whose owners – including McKown and Roy Jefferson – had filed to liquidate Lincoln Casualty on March 1.  Journal stories March 3 and 4 pointed to Summers as the cause of the local chaos.
"It is believed that (Lincoln Casualty's) failure is traceable to reinsurance issued to protect the Seaboard company, a California institution, which is said to have been wrecked through the operations of Maj. Charles P. Summers,* former resident of Springfield," the newspaper said. "It was charged that Summers secured nearly $300,000 and is now residing in Mexico."
State auditors found North Side's assets fell far short of its $600,000 in debts, $400,000 of which was owed to depositors. In the end, depositors received only 20 percent of what they had put into accounts at North Side. (Jefferson Bank reopened for a few days in April 1927, solely to pay off depositors. Although those depositors received their full amounts, the south-side bank then closed for good.)
Meanwhile, McKown, Lewis, Roy Jefferson, and another man were indicted in June on charges of embezzlement and conspiracy. McKown, however, was the only one brought to trial.
A jury could not reach a verdict in his first trial, on an embezzlement charge involving his use of North Side-owned bonds to obtain a loan from another bank (he said he traded other assets for the bonds).
In a second trial, McKown was convicted of receiving an $80 deposit on March 2, 1927, knowing the bank was already insolvent. He was sentenced to three years in state prison. However, an appellate court reversed the conviction, holding that there was insufficient evidence both that the bank was already insolvent and that McKown knew it.
"In a case of this character a defendant cannot be convicted upon opinions, conclusions and presumptions," the court ruled.
In one of his last acts as his term expired, Sangamon County State's Attorney H.E. Fullenwider dismissed charges against all four men charged in the indictments.
The North Side bank building was sold for $14,100 in December 1928. Lincoln Library moved its North Branch into the west half of the building in 1931 (the east side was an A&P grocery store) and took over the entire building in 1942.
Summers, meanwhile, disappears from U.S. Census and city directory records in 1927. However, if he fled to Mexico, he returned to the U.S. later. He is buried in San Bernardino, Cal.
Whatever happened to the money he allegedly stole remains unexplained.
*Summers' military rank of major was earned in the Illinois National Guard.
Miss Nellie Hughes
Miss Nellie Hughes (1902-81) was the North Branch's librarian for the first 46 years of its existence. Patrons of the branch always called her "Miss Hughes," and the branch itself was often called "Miss Hughes' library."
The branch opened under Miss Hughes' leadership in 1926 in a storefront at 621 North Grand Ave. E. She remained branch librarian through the library's 1931 move and 1942 expansion.
At her retirement in 1972, as the Illinois State Journal reported, she could boast of working with several generations of north-end families, helping them and their children become "enthusiastic readers and library patrons throughout their adult years."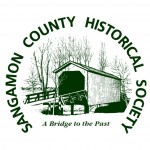 Original content copyright Sangamon County Historical Society. You are free to republish this content as long as credit is given to the Society.