The Illinois State Fair's first butter cow, sculpted in 1922, was the image of an actual champion cow, the University of Illinois' Raleigh's Sibyl. Raleigh's Sibyl produced 18,847 pounds of milk in 1920, a record at the time.
Nebraska sculptor J.E. Wallace worked from more than 60 measurements and a large photo of Sibyl to create an accurate likeness. The carving, which took 12 hours and required 1,000 pounds of butter, was done in the Dairy Building's glass refrigerator in front of a crowd of state fair visitors.
Wallace was untutored as a sculptor, although, he told an Illinois State Register reporter, he had "an accurate and correct knowledge of anatomy" as a result of his previous work as a taxidermist.
Wallace's oeuvre wasn't limited to cows. Just before working at the Illinois State Fair, he had created a life-size butter version of "Andrew Jackson mounted on a spirited charger 16 hands high" for the Tennessee fair.
"By golly, that was some job, but they got what they wanted," Wallace said.
Raleigh's Sibyl was the Illinois fair's first butter cow, but the Dairy Building also hosted butter sculptures for several years before. Alice Cooksley of San Francisco had been creating a variety of butter flowers – roses and poppies, among others – in the building's refrigerated display case starting in 1917.
Raleigh Sibyl also didn't quite start an annual tradition of butter cows. Newspaper reports suggest Wallace next returned for the 1925 fair, when he produced a "Holland dairy maid" churning butter, watched by her dog. In 1926, Wallace sculpted a farm boy feeding his calf. "(T)he spectator can almost hear the young thoroughbred snort," the Illinois State Journal reported.
By 1930, Wallace and his wife, who had joined the sculpting effort, were branching out; that year, the Dairy Building boasted a butter cow, butter boy and butter bust of Abraham Lincoln.
The Wallaces continued to sculpt the fair's butter cows until J.E. Wallace died in 1956. Several sculptors have created the annual attraction since then, notably including Norma "Duffy" Lyon of Toledo, Iowa, the fair's butter sculptor from 1970 through 2001.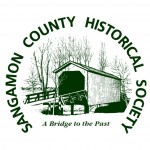 Original content copyright Sangamon County Historical Society. You are free to republish this content as long as credit is given to the Society.