Fido, a yellow mongrel dog the Abraham Lincoln family adopted about 1855, stayed behind when the Lincolns moved to Washington, D.C., in 1861 and was stabbed to death sometime in 1866. The man who killed Fido has gone down in history as a shiftless drunk, but that characterization might be unfair.
When they left town, the Lincolns gave the dog to the family of John E. Roll, who had known President Lincoln since New Salem days and whose sons, John L. and Frank, were friends with Willie and Tad Lincoln.
Lincoln's friend and barber, William Fleurville, updated President Lincoln on Fido in an 1862 letter:
Tell Taddy that his and Willie's dog is alive and kicking, doing well. He stays mostly at John E. Rolls with his boys who are about the age now that Tad and Willie were when they left for Washington.
The classic story of Fido's killing was reported in an Illinois State Journal column written by Journal editor J. Emil Smith on Feb. 3, 1931. Smith said John E. Roll gave the following account to a reporter for a magazine whose name and date were unrecorded; John L. Roll showed the magazine story to Smith, who quoted from it.
The circumstances were as follows: Charlie Plank, a half-drunken man, was one day whittling a pine stick when Fido came bounding along and, as usual, sprang forward with his fore feet raised. In drunken rage, the man thrust his knife into the animal, and poor Fido ran away, not to be found for a month after, when his lifeless body was discovered under an old church.

Poor old Fido was buried by loving hands in a spot that is kept sacred to this day.
Smith, and perhaps the unknown magazine writer, misspelled the last name of Fido's killer. As Matthew Algeo determined for his 2015 book, Abe & Fido: Lincoln's Love of Animals and the Touching Story of His Favorite Canine Companion, the knife-wielding man was one Charles E. Planck, 24, a clerk and the son of Springfield grocer Jacob C. Planck.
Algeo quotes an unnamed city resident as saying Planck was "somewhat given to intoxicating beverage." Planck "had not accomplished much of anything in life," Algeo writes, adding that he later "slithered back into the obscurity he so richly deserved."
Whether or not Planck was a drunk, he may have deserved more sympathy than he got from Algeo. For one thing, Planck had volunteered for Civil War service; he was a member of Company G of the 114th Illinois Infantry Regiment over the entire period – summer 1862 to spring 1865 – of the 114th's existence and rose to the rank of corporal. Included in the 114th's record were the battles of Nashville and Brice's Crossroads.
There's also the question of whether Planck meant to kill Fido. A Journal story in February 1893 put a different spin on the incident.
He (Fido) was exceedingly friendly and had a habit of showing his congeniality by depositing his muddy yellow fore paws plump on the breast of any one who addressed him familiarly. His excessive friendliness eventually caused his death in a very unique way, in that Fido suffered the fate of his master – assassination. The dog, which was a yellow fellow of moderate size, ran against Charlie Plank, who was whittling a stick with a sharp, long bladed knife. By an accidental move while the dog was expressing himself in caresses the blade was buried deep in his body. He shot out the door like a flash and was never seen again alive. His body was found about a month afterwards where he had lain down to die behind the chimney of the old Universalist church.
It is true that Planck had at least two encounters with local law enforcement following his Army discharge, but one was as a victim, and in the other he seems not to have been totally at fault.
In the first case, Planck was beaten and robbed by two men on North Seventh Street in September 1865. The second involved an argument at Fourth and Washington streets in March 1868 between Planck and Peter Burns. The dispute ended, according to the Journal, when "Planck drew a revolver loaded with small shot, and fired, wounding Burns slightly in the shoulder."
On March 6, the day after the fight, Burns was fined $3 "for using language to Charles Planck, calculated to provoke a breach of the peace." (Burns had a violent record. The same day he was fined for instigating the shooting, Burns was fined another $20 for assaulting Josephine Howard, and a third case against him, for assaulting Mary Ward, was carried over. Later that spring, Burns was accused of assault with intent to kill, although that charge was dismissed.)
When Planck appeared in court March 10, he was ordered merely to "give $500 bonds to keep the peace, and was released from arrest," the Journal reported. He apparently faced no other penalty.
Sometime in the 1870s, Planck and his wife Hattie (they had married in 1867) moved to Michigan, where Planck worked as a clerk and "expressman." He died on March 21, 1917, at the Grand Rapids Veterans Home, where he is buried.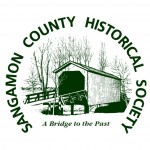 Original content copyright Sangamon County Historical Society. You are free to republish this content as long as credit is given to the Society.