The discovery of hundreds of thousands of dollars stuffed in suitcases, an attache case, loose envelopes and, of course, a shoebox within days after the October 1970 death of Illinois Secretary of State Paul Powell remains clouded by confusion and myth.
Powell, a Democrat from Vienna, died in a hotel in Rochester, Minn., where he had gone for treatment of a heart ailment, the night of Oct. 10, 1970.
Answers to many of the questions about Powell's wealth are elusive, but here are some:
Is it true that the shoebox contained $800,000 in cash?
No. It is true that Powell's estate included $820,000 in cash, mostly $100 bills, but the shoebox was only one of several containers that held the money. Exactly how many containers there were and their nature has differed from telling to telling, but the most authoritative list appears to have been reported by The State Journal-Register's Caryl Carstens on June 25, 1975. Her story, based on a news conference held by Sangamon County first assistant state's attorney J. William Roberts, said the containers included two overnight cases, an attache case and two briefcases plus the shoebox. The contents of some of the cases included individual envelopes containing cash.
The cases and shoebox reportedly were found in a closet of Powell's two-room suite, Room 546, at the St. Nicholas Hotel, Fourth and Jefferson streets in Springfield. In total, the cash said to have been found in the hotel room came to about $750,000; another $50,000 was found in Powell's Springfield office.
The shoebox itself – a Marshall Field Christmas box, to be exact – contained about $150,000 of Powell's hoard.
Was the money really in the hotel room?
That's always been the story. It originated with the late John Rendleman, chancellor of Southern Illinois University at the time, who said he discovered the money in the closet. However, Robert Hartley, whose Paul Powell of Illinois: A Lifelong Democrat, is probably the most detailed study of Powell's life and controversial death, outlined a different possibility in his book: that the cash was a slush fund Powell used in political campaigns, his own and others, and that the money normally was kept in Powell's office.
The theory most often repeated by those familiar with Powell … is that Powell might have had a few dollars at the hotel, but the bulk of his cash was in the locked filed cabinet in his office when he died. If that is accurate, the money had to get from the locked file cabinet to the hotel in order to be discovered by Rendleman and (Powell's private secretary and girlfriend Marge) Hensey. That account immediately implicates the handful of people who had access to the safe, the money, and the hotel room in the hours and days immediately after Powell's death.
Under Hartley's scenario, before Powell's death was made public, Powell aides Nick Ciaccio and Marilyn Towle removed Powell's campaign cash from his Springfield office. The money stayed with them – on a plane flight to Rochester, Minn., then in the trunk of Ciaccio's car, but never in the St. Nicholas suite – while Powell's top staff scrambled to sanitize their late boss's files. It's also possible, Hartley theorizes, that Ciaccio, Towle and others hoped to split the cash among themselves.
The plan, if there was one, may have fallen through because Rendleman refused to go along with it, Hartley writes. If that happened, the story about Rendleman finding the money at the St. Nick was simply a late improvisation. Hartley adds:
The implications of this scenario are considerable, especially for the relatives and friends of the people involved. For instance, those who knew Rendleman well and trusted him absolutely refuse to believe that he was involved in anything other than the story he told. But the actions, vague statements under oath, and incomplete explanations of those involved make such a story plausible.
Hartley's speculation will always be that. All those knowledgeable about the hours and days immediately following Powell's death themselves had died by the time Hartley wrote a followup article for The State Journal-Register 30 years later.
Adding to the overall weirdness of the case, Powell didn't keep just cash squirreled away at the St. Nick. Other items stashed in closets, chests of drawers and hotel storage included more than a dozen transistor radios, unused and still in their packaging; 30 cases of whiskey; two cases of canned creamed corn; and two chest drawers full of matchbooks. Powell's sofa, Rendleman said, was piled with shirts, and 10 years' worth of Readers Digest magazines were strewn around the apartment.
Where did the money come from?
The source of Powell's wealth is the murkiest question of all. Powell's top salary as a public servant was the $30,000 annually he received as secretary of state. Counting the cash hoard, however, his estate came to more than $3 million two years after his death and, with subsequent earnings, to $4.6 million when the funds were finally disbursed in 1978.
Hartley suggests that the cash was largely composed of campaign donations, some of which Powell intended to disburse to others and some he planned to keep for himself, and bribes "from those seeking favors."
In the years following Powell's death, Chicago contractor Tal Rauhoff was convicted of bribing Powell to win a contract to manufacture lllinois' 1970-71 license plates. Also, a consortium of contracting firms, including four from the Springfield area, agreed to repay $700,000 to the state for fixing bids in connection with Statehouse rehabilitation. That case also resulted in guilty pleas by two individual defendants. Powell received $90,000 in bribes in return for awarding the Statehouse contracts.
Otherwise, some funds in Powell's estate probably were the result of legitimate business dealings, while other money came from deals that were legal at the time, but shady: Powell made a great deal of money, for instance, by investing in racetracks. Horse racing, which is highly regulated, provided a variety of lucrative opportunities for state officials; former Gov. Otto Kerner went to prison in 1973 after another race-track stock scandal.
In the end, however, Hartley quotes former state senator Thomas McGloon of Chicago about Powell's wealth: "I think that the secret of Powell's money will remain a mystery for the rest of time."
Where did the money go?
When Powell's estate was settled in 1978, major beneficiaries included:
The Internal Revenue Service, $1.5 million
The state of Illinois, $322,000 ($222,000 in estate taxes and $100,000 in damages for contracts awarded without collective bidding)
Attorney fees, $305,000
Rendleman, more than $200,000 in executor fees
Hensey, more than $700,000 in cash and property, the bulk of which was Powell's stock in the Chicago Downs racetrack operation
About $200,000 was set aside to maintain Powell's home in Vienna as a museum. It is operated by the Johnson County Genealogical and Historical Society.
The named beneficiaries in Powell's will all received their full bequests. Included were the Democratic central committees of all 102 counties, each of which was given $200, and the Illinois and Cook County party committees, which received $10,000 each.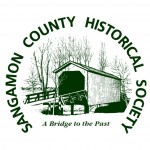 Original content copyright Sangamon County Historical Society. You are free to republish this content as long as credit is given to the Society. Learn how to support the Society.