John E. Hickey (1890-1970), a founder of aviation's Silver Wings Fraternity, had been a pilot for longer than anyone else in Illinois when he died in 1970.
Hickey's first flight took place in a hot-air balloon in 1908. He told an Illinois State Journal reporter in 1961 that he was offered $3 to take the ride.
"When guys working at paving streets got $1.50 for 12 hours, that was pretty good for 20 minutes," Hickey said. "I landed on top of a moving freight train, and the engineer saw me and stopped the train to let me off."
Hickey later began taking ground-school flying lessons. He first soloed on Oct. 18, 1910, taking off in a Wright biplane from a field near Springfield.
"Those planes were just wood, wire and Irish linen," he said in the 1961 story. "You really had to fly by the seat of his pants in those days."
Hickey apparently was a daredevil on the ground too. In a September 1922 story about injuries Hickey suffered in an accidental fall in downtown Springfield, the Illinois State Register reported that Hickey was working for the fair's auto race promoter and had planned to take part in that day's "auto polo" contest at the fair.
Hickey went on to do barnstorming tours, operate his own flying service and fly mail planes in World War I. At one point, on a post-WWI mail flight between Portland, Ore., and Alaska, his float plane got lost over the Pacific Ocean. "Ice forced the plane down, and I rode it out," he said.
Hickey was one of five founders of the Silver Wings, made up of pilots with 25 years of experience. He also was one of only 598 members of the Early Birds of Aviation, whose eligibility rules required pilots to have flown prior to Dec. 17, 1916. (The cutoff date was set because so many pilots started training in 1917 for WWI service.) The organization went out of existence with the death of its last member in 1998. Hickey's name is included on a plaque honoring the group at the Smithsonian National Air and Space Museum.
Hickey continued flying into his 70s and also was active with the Civil Air Patrol at what is now Abraham Lincoln Capital Airport, among other aviation groups.
Hickey was born and lived most of his life in Springfield, but later moved to the Ashland area. He is buried in Yatesville Cemetery, Morgan County.
Hat tips: Thanks to Lyn Holton, Mr. Hickey's granddaughter by his first wife, for alerting us to Mr. Hickey's pioneering career in aviation. See her further comment below. 
And thanks as well to Betty Kendall, Mr. Hickey's granddaughter by his second wife. See her comments below for a wealth of additional information on Mr. Hickey's life, both professional and family.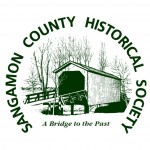 Original content copyright Sangamon County Historical Society. You are free to republish this content as long as credit is given to the Society. Learn how to support the Society.