The development of Gehrmann Park in 1946 caused the destruction of what then probably was Springfield's oldest building – a log cabin built by one of the Kellys, the city's first European settlers.
The three-acre park between Third and Fourth streets along Calhoun Street is named after the C.A. Gehrmann family, whose mansion occupied the site from about 1870 until 1946.
Also on the grounds was a log cabin built by William Kelly. The cabin next became the home of Archer Herndon, father of Abraham Lincoln's law partner and biographer William Herndon.
Charles A. Gehrmann (1835-1912), a German immigrant, opened a millinery and dry-goods business on the downtown square in 1860. About a decade later, he bought land along Third Street from Herndon and built a three-story, 14-room family home on the site. In the process, the old Kelly cabin was moved to the rear of the property, where it became a washhouse and the home of the Gehrmanns' gardener.
C.A. Gehrmann needed a gardener. His "real passion was landscaping the grounds," according to Springfield Home & Family: A Pictorial History by Melinda Garvert, Curtis Mann and Edward Russo (1897). The carefully laid-out gardens and other plantings, complete with statuary, were a local showplace for decades. The home was described in 1891 as:
(A) tract of land seven acres in extent, laid out into a beautiful park, adorned with tropical plants and evergreens, some 80 feet high. The house is filled with choice paintings, many from his (Charles Gehrmann's) own hands or his children's, and also contains a large and complete library, and musical instruments which seem to be used liberally. It is indeed a model home.
A 1938 column by Illinois State Journal editor J. Emil Smith estimated that 80 different kinds of trees had been planted on the Gehrmann property.
Adele Gehrmann, C.A. Gehrmann's daughter, the last family member to live in the home, died in March 1944. When her brother Charles (the husband of Susan Lawrence Dana from 1915 to 1930) died in a Springfield hotel that May, their cousin, Felix Gehrmann of Chicago, offered the property to the city.
The mansion and the gardener's cabin, by then "both in very bad repair," according to the Journal, were demolished by the city.
Today, the Springfield Park District describes Gehrmann Park as "one of several typical neighborhood parks with mature trees that create a very pleasant park-like character. It is primarily used by neighborhood children and medical workers from the area."
More information: Readers can get a sense of the Gehrmann grounds by viewing a circa 1901 photo of Adele Gehrmann taken by Springfield photographer and auto dealer Guy Mathis. The photo is owned by the Abraham Lincoln Presidential Library.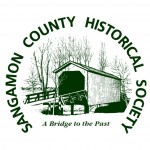 Original content copyright Sangamon County Historical Society. You are free to republish this content as long as credit is given to the Society.