Bobby Watson (1888-1965), born Robert Kuecher in Springfield, portrayed Adolf Hitler in movies more times (nine) than any other Hollywood actor.
The most  colorful account of Watson's show business career is his IMDB biography, which says Watson got his showbiz start at age 10, when he was the Saturday afternoon peanut concessionaire at Springfield's  Olympic theater. Unfortunately, IMDB gets several important details wrong, including Watson's birth name, calling the entire profile into question.
While Watson may have started his performing career at the Olympic, he couldn't have been a 10-year-old peanut vendor there, because the Olympic, 409-11 E. Jefferson St., apparently operated only from 1904 (when Watson was 16) to 1908. Instead, according to the Illinois State Register, Watson made his first stage appearance – no year was given — at the Gaiety theater, which also opened in 1904.
Watson connected with another Springfield vaudevillian, Eddie Dwyer (1888-1919), and the team went on the road in about 1908. Dwyer was the "eccentric" comedian, and Watson – at first still using the last name Kuecher – was the straight man.
Watson & Dwyer broke up sometime before 1915, when the Register reported Watson was "making good on the Chicago stage." The newspaper quoted the Chicago Theatrical Review:
When it comes to personality, engaging ways, wearing clothes and making a good appearance, Bobbie (sic) Watson deserves to rank with the best ones. …

It is rumored that Bobbie Watson has been engaged for a big New York revue for next season and if that is true it only testifies to the generally accepted theory that ability cannot be long hidden.
Watson got his big break when he was hired to replace Frank Craven in the 1918 Broadway musical Going Up. The next year, Watson won a lead role in the hit musical Irene, playing a male dressmaker nicknamed "Madame Lucy." He went on to other plays and then into film starting about 1920 (Watson's IMDB credits begin in 1925, but that omits such earlier films as 1920's The Greatest Love, starring Vera Gordon).
IMDB was accurate in one summation of his career: "Bobby Watson is one of those versatile actors every filmgoer has seen many times playing memorable character parts." Besides Hitler, among Watson's nearly 100 IMDB movie and television credits were as an Ozmite in The Wizard of Oz and (uncredited) as the diction coach in the "Moses Supposes" scene of Singin' in the Rain.
Watson first portrayed Adolf Hitler in 1942. He was Hitler in two Three Stooges comedies –   You Nazty Spy and The Devil with Hitler, and repeated the character in seven other films: Hitler: Dead or Alive (1942), The Miracle of Morgan's Creek (1944), The Hitler Gang (1944), A Foreign Affair (1948), The Story of Mankind (1957), On the Double (1961), and finally The Four Horsemen of the Apocalypse (1962).
"Backstage talk has it that Bobby faced so much hostility on the set while made up as Hitler that he had to remain locked in his dressing room between takes," the IMDB biography adds.
Watson regularly returned to Springfield to visit family, trips made easier by the fact that he was one of the first full-time RVers. Watson lived during at least the late 1930s and early 1940s in a small trailer he towed behind his station wagon.
Watson is buried – under the name Robert "Bobby" Watson Kuecher– at Oak Ridge Cemetery.
Bobby Watson photo album
Bobby Watson drove thousands of miles towing his various motor homes, including on several trips back to Springfield; he also traveled widely throughout the American southwest. Watson documented his journeys and his stage and screen career in photo albums and other collections that, as of 2016, were in possession of Prairie Archives, the antiquarian bookstore on the Old Capitol Plaza in Springfield.
Below are a few selections from those collections. Photos are copyright Prairie Archives and are published here by permission.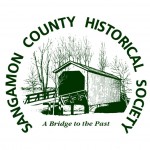 This entry has been corrected and expanded.  
Original content copyright Sangamon County Historical Society. You are free to republish this content as long as credit is given to the Society. Learn how to support the Society.