The Sixth Ward Primary School, located between Sixth and Seventh streets and Vine Street and South Grand Avenue, was the first Springfield public school organized after the original four ward schools. Stuart was built in 1883 and closed after the 1967-68 academic year.
The original building was an 11-room, two-story structure that housed eight grades.  Stuart was partially destroyed by fire in 1897 and rebuilt the next year. The school was remodeled in 1914 to include an auditorium, and, in 1924, a six-room addition was constructed adjoining the old building, at a cost of $86,000.
The Sixth Ward Primary school was officially renamed Stuart School in honor of John Todd Stuart (1807-85), a pioneer resident of Sangamon County and former law partner of Abraham Lincoln. (See more below.)
The original graduating class in 1891 had the following members: Fred Anred, Mamie Bradish, Charles Colby, Ralph Dickerman, Luella Forden, Willie Hankin, Bertha Ihlenfeldt, Mamie Mills, Edna Pauin, Annie Schirnding,  Harry Stockwell, Willie Barnett, Florence Clark, Laura Coe, May Eads, Harry Gatton, Blossom Hickox, May McCasker, Charles Neal, Frank Simmons. James Silva, Birdie Van Duyn, and Guy Withrow.
The first principal was Jennie Irwin, who served from 1883 to 1885. Among other Stuart School principals were two who were there for many years: Nellie Engelkirchen (1875-1942), who led the school from 1911 until 1936, and Pauline Leasman (1908-2006), who was at Stuart from 1948 until 1965.
According to a State Journal-Register article, Leasman wept when she was first appointed principal. She had turned down three principalship offers because "she only wanted to be a teacher and close to her students."
As a principal, Leasman was  as close to her students as she had been  as a teacher. One of her earliest accomplishments was to replace departmentalized teaching with a teacher for each grade. This idea was so successful that the school district abandoned departmentalization at the elementary school level.
Alberta Inez Rogers (1883-1970) started the first crippled children's school at Stuart  in 1925, when it was still considered unsafe for polio victims to associate with healthy children.  It was the first such program outside of Chicago.  Rogers stayed at the school for 23 years.
The disabled children were chauffeured to school by Lloyd Coleman. In cold weather if his car would not start, he would personally carry each of the eight students to and from school on his back. Stuart continued to educate students with disabilities until the 1960s.
By then, however, the school's location had made it an attractive commercial site, and a business group approached school officials about buying the property in 1961. Fifty people attended the Oct. 10, 1961, school board meeting in support of keeping Stuart as an elementary school, and the board took no action on the proposal.
An 80th birthday celebration was held for the school on Nov. 12, 1963. Among those who attended were Alberta Inez Rogers and 1898 graduate Sidney B. Smith. Eight of the school teachers at the time had taught there together for 20 years.
Also in 1963, however, a Citizens School Survey committee noted that enrollment had been declining at Lawrence, Hay-Edwards and Stuart schools. Ray Swartout, chairman of the committee, called Stuart one of the finest schools in Springfield with one of the finest faculties, but the committee also determined that, of the three schools, the Stuart School property had the most commercial value.
The committee recommended the school be sold, and, despite another protest by Stuart parents and advocates, the school board voted in 1966 to do so.
The first steps toward closing Stuart actually had taken place in 1965, when 120 students were reassigned from Stuart to Hay-Edwards and 120 more were sent to Lawrence. (Also in 1965, Pauline Leasman was named principal of Butler Elementary School, and Edward Ianni became teaching principal at Stuart.)
In 1967, the newer building – the north half of the Stuart School block — was sold to Dr. Mario Gospodinoff to be used as a psychiatric and diagnostic treatment center. The south half – the South Grand Avenue frontage — was split into two sections; the southeast corner was sold for a Lum's restaurant, while the southwest corner was purchased as a gas station site.
Stuart School, the oldest continuously operating building in the Springfield School District, closed the doors on its last students in May 1968.
In 2015, the entire south half of the block was occupied by a CVS pharmacy.
John Todd Stuart
John Todd Stuart, born in 1807 near Lexington, Ky., was a cousin of Mary Lincoln. He came to Sangamon County in 1828.
Abraham Lincoln and Stuart were in the same battalion in the Black Hawk War. Stuart encouraged Lincoln to study law and loaned him law books, and they were law firm partners from 1837 to 1841.
Beginning in 1843, Stuart started a law partnership with Benjamin Edwards that lasted 40 years. The firm continues today as Brown, Hay & Stephens; partners include John Todd Stuart's great-great-grandson.
Although Stuart and Lincoln did not always agree – as a Democratic member of Congress from 1863 until 1865, Stuart opposed emancipation. However, Stuart later became president of the Lincoln National Monument Association, which built and operated Lincoln's Tomb until 1895.
For more information, see John Todd Stuart's memoir of Springfield.
Contributor: Kathy Dehen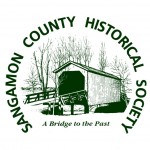 Original content copyright Sangamon County Historical Society. You are free to republish this content as long as credit is given to the Society.