Springfield poet Vachel Lindsay wrote The Wedding of the Rose and the Lotus in 1912 to recognize the importance of the Panama Canal, which connected the Atlantic and Pacific oceans. The rose signifies the West and the lotus the East.
The most often quoted lines end the first stanza:
The red rose woos the lotus,
The lotus woos the rose.
The Wedding reportedly was read to President Woodrow Wilson's cabinet, and copies were distributed to members of Congress when the Panama-Pacific Exposition opened on Feb. 20, 1915. (The canal had officially opened about six months earlier.)
The poem is remembered in Springfield by an adapted, enlarged and colorized version (top) of a drawing Lindsay made to accompany the poem. The 8- by 16-foot painting is displayed in the 100 block of North Fifth Street. The painting was created in 1997 and redone in 2008.
The original drawing can be seen in a pamphlet Lindsay published in connection with the poem, now held in the archives at the University of Illinois Springfield.
Here is the text of The Wedding of the Rose and the Lotus; this image is taken from Lindsay's The Village Magazine (1920). In a combination index and table of contents for The Village, Lindsay wrote that "the verse (is) now revised and corrected."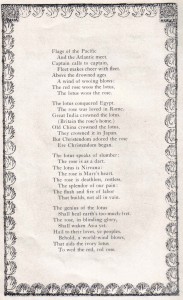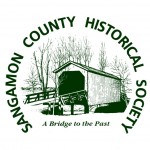 Original content copyright Sangamon County Historical Society. You are free to republish this content as long as credit is given to the Society.