The histories of the 27 people – 25 men and two women – who have held the office of Sangamon County circuit clerk were researched in 2011 by Savannah Little. The resulting brief biographies can be read on the circuit clerk's web site.
Here is a list of circuit clerks and their years in office.
Charles R. Matheny (1821-35)
William Butler (1835-42)
John C. Calhoun (1842-48)
Benjamin Talbott (1848-52)
James H. Matheny (1852-56)
Presco Wright (1860-64)
Stephen S. Whitehurst (1860-64)
Charles H. Lanphier (1864-72)
James A. Winston (1872-80)
Edward R. Roberts (1880-88)
Edward Cahill (1888-96)
E. Dow Matheny (1896-1902)
John L. Bliss (pro tem) (1902)
Samuel T. Jones (1902-12)
Joseph H. Drennan (1912-16)
Charles L. Koehn (1916-24)
Robert G. Moore (1924-32)
Edgar L. Crane (1932-40)
Harry H. Mason (1940-44)
J. Harry Happer (1944-56)
Joseph P. Knox (1956-68)
Dwight H. O'Keefe Jr. (1968-72)
Edward W. Ryan (1972-80)
Karen Hasara (1980-86)
Candice Trees (1986-92)
Carl D. Oblinger (1992-96)
Tony Libri (1996-2015)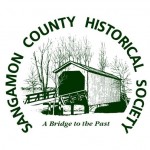 Paul Palazzolo was named circuit clerk in 2015 and still held the office as of early 2020.
Original content copyright Sangamon County Historical Society. You are free to republish this content as long as credit is given to the Society. Learn how to support the Society.