The following cases were all reported on Page 4 of the Oct. 7, 1883 Illinois State Journal. They give a sense of how both law enforcement and newspapers dealt with crime and court cases 130 years ago.
NIGHT PROWLERS.
A Second Visit to the Residence of Mr. J.L. Hudson
Thursday night the stable man employed by Mr. J.L. Hudson heard a suspicious noise in the barn and upon going out was just in time to see two men preparing to steal the family horse. The animal was already bridled but the thieves were frightened away by the stable man. A few nights befor a burglar crawled up on a side porch near the chamber occupied by Mr. and Mrs. Hudson. The noise of the tin on the roof awakened Mrs. Hudson, and when Mr. Hudson was aroused and looked out the window he saw the scamp lying flat at the outer edge of the porch. It was not until Mr. Hudson had warned him three times, adding a threat that he would blow his brains out, that the fellow rolled over the edge and descended by the post.
WAITING FOR THE TEN.
George Mitchell is the Victim of a Confidence Game.
George Mitchell, employed at the rolling mill, has been the victim of a confidence game and claims to have been swindled out of $10 in money. A fellow giving his name as George L. Biggs, purporting to be a fireman on the Illinois Central railroad, won the confidence of Mitchell and promised to obtain for him a position on the road. He asked Mitchell for some change, and as he had nothing but a $10 bill he gave it to Biggs, who said he would have it changed. Mitchell is still waiting for his change. He obtained a warrant for the arrest of Biggs, but he has not been captured. Biggs is thought to be a professional "skin" man.

TOLD A RAMBLING STORY.
An aged man giving his name as Joseph Turner and claiming to hail from Carlinville says he was assaulted last night and robbed of $25. He was intoxicated and walked into Feltham's drug store and told his story. His nose was badly mashed. The police were notified and he was placed in the calaboose. He told a very unsatisfactory story and did not know where he was assaulted. He was shabbily dressed and wore no hat.
ARRESTS BY THE POLICE.
Hank Lutrix was arrested last night and placed in jail on the charge of larceny. The complaint is made by D. Simon, the proprietor of an iron and scrap yard on Madison street near Seventh, who says Hank stole iron and ore from him to the value of $40. Lutrix will be given a hearing today.
Isman Turner was arrested last night on the charge of assault and battery and drunkenness. the complaint is made by his wife, Mittie Turner, who says her husband came home in an intoxicated condition and assaulted her.
HIS HOBBY THREW HIM.
Jimmy Woods, the pencil and stationery vender, was arraigned before Justice Connolly to answer to the charge of vagrancy preferred against him by the police. Jimmy has been arrested four times during the past two weeks and when intoxicated he takes great delight in yelling "murder" at the top of his voice. On his promise to leave town, he was discharged.

GIVEN A NOMINAL FINE.
The cases against Joe McCormack, James Farley, Michael Connolly, John O'Brien and Henry Broderick, who were charged with holding up John Oberman and Joe Broverman in the alley back of the jail Monday night, were arraigned before Justice Brinkerhoff for a hearing but a change of venue was taken to Justice Langston. There they stood trial, and the cases against them for highway robbery were dismissed and a charge of assault and battery was preferred to which they pleaded guilty and were fined $1 and costs. The testimony given was very conflicting and thended to show that they did not steal the watch but had it in for Oberman and Broverman and assaulted them for revenge. They all paid their fines except Connolly, who is in jail.
Court reports (taken from a roundup that also included items on divorce trials and a civil suit)
Another day was taken up in hearing the case of the People against Benjamin Rowland, who is charged with defrauding Mr. Spaulding, the nurseryman, out of several thousand dollars. About twenty-five witnesses from Olney and other points in Richland county testified, some saying Rowland was truthful, while others testified to the contrary. The case is a very complicated one and will be on trial yet today.
Hez Williams and Walter Sampson pleaded guilty to keeping a gaming house and gaming and were each fined $10 and costs on each of three counts.
Nettie Bond, indicted by the grand jury for keeping a bawdy house, was admitted to bail in the sum of $200 and was released from jail.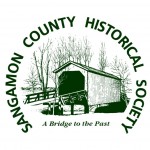 Original content copyright Sangamon County Historical Society. You are free to republish this content as long as credit is given to the Society.