Springfield and Illinois as a whole were shocked when the news broke Oct. 12, 1914 that Secretary of State Harry Woods had shot himself in the garage of his home at 628 S. Walnut St.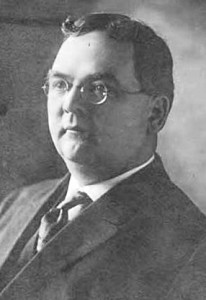 Woods, 51, had been dead for 24 hours when his wife and a neighbor forced open the door of the garage. His body was found in a sitting position, tightly clutching a pistol he sometimes carried.
"The eccentricities of the secretary were responsible for failure on the part of members of his family or neighbors to discover his dead body sooner," the Illinois State Journal reported Oct. 13. Woods' wife, Hattie, "assumed Woods had left the city," the article said.
Woods' private secretary said his boss "was a man of erratic habits, who often left without giving word of his destination and who at times acted queerly," the Journal reported the next day.
When the body was discovered, other state officials moved quickly to review the finances of the secretary of state's office, but apparently found no irregularities.
Woods, several acquaintances testified at a coroner's inquest Oct. 14, had been depressed at least since he lost a primary race for U.S. Senate a month earlier. Testimony also indicated Woods had planned his suicide ahead of time, according to the Journal story.
In Chicago Saturday, the secretary, contrary to his usual custom, bade every member of his office force goodbye, and pointed to an automobile which he told his chief assistant in the Chicago automobile office he "wished him to have."

Returning to this city Saturday night, the secretary told Mrs. Woods of a book in the garage which he requested her to remember to get the following (Sunday) morning. It is believed the secretary so planned the suicidal act that he would have been dead when Mrs. Woods made the discovery as a result of a search for the book. …

Friends of the secretary … agreed that Mr. Woods' deep-seated political aspirations had been dealt a severe blow by his defeat in the September primaries for nomination of United States senator.

It is said also that the secretary brooded over his physical condition and had premonitions that he would not always enjoy the good health which had been his for so many years.

There are those of his friends who believe, too, that he worried over what he regarded as poltical treachery on the part of certain Chicago friends on whom he had counted and who, in the recent race, failed to support him.
Woods, characterized as a "progressive Democrat" and supporter of William Jennings Bryan and Gov. John Peter Altgeld, was a Canadian immigrant who rose from messenger boy to a prominent grain dealer in Chicago, according to campaign literature when he ran for secretary of state in 1912. He is buried in Chicago's Graceland Cemetery.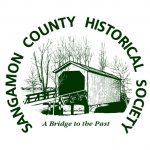 Hat tip: This entry has been corrected regarding Harry Woods' burial place. SangamonLink originally relied on Findagrave.com, which says Woods is buried at Oak Ridge Cemetery in Springfield. However, newspaper stories from 1914 state his body was taken to Chicago for burial at Graceland Cemetery there. The newspaper stories appear conclusive. Thanks to reader B P (see below) for directing us to that information.
Original content copyright Sangamon County Historical Society. You are free to republish this content as long as credit is given to the Society. Learn how to support the Society.