Authorities blamed a Springfield arson ring for a massive explosion that destroyed two north-end houses and damaged dozens of others on March 17, 1937.
Eight people were charged with arson and insurance fraud in the case. But the main defendant avoided conviction through three trials, and charges ultimately were dropped against all eight.
The blast, which took place at the home of William Rath, 823 N. Seventh St., about 3 a.m. March 17, leveled that building and the one next door at 821 N. Seventh St. Houses on both sides of the two demolished buildings — 813 and 827 N. Seventh St. — were severely damaged by fire.
Despite all the destruction, only three people were injured, none severely. That was partly due to the fact that no one was home in either of the leveled buildings — a circumstance that quickly gave rise to suspicions that the residents had advance warning of the blasts.
Windows were blown out in about 50 buildings, the Illinois State Journal reported.
A huge plate glass window in a garage at Sixth and Mason streets, seven blocks from the blast, was shattered, and hundreds of other windows were shattered. …

Immediately following the explosion flames shot skyward to a point estimated at anywhere from 200 to 300 feet. A man driving to Springfield … told police he noticed the flames shooting toward the heavens and said it looked to him as if the fire, appearing like a huge blast furnace ball of flame, went higher than the state house dome. The driver said he was four miles from the city on Route 36 when he noticed the flame.

Bricks from the Rath home were blown with such force that some of them traveled a hundred feet. Many of them crashed through windows in homes across the street, narrowly missing many sleeping persons. …

Near pandemonium reigned in every home within two blocks of the explosion and many a patient at St. John's hospital, four blocks from the scene, spent a restless night after being awakened by the detonation.
Initial reports were that Rath, a window washer and bartender, had bought and insured both of the destroyed homes about six months earlier. Investigators from the state fire marshal's office determined the day after the explosion that the houses were both "saturated" with gasoline.
A grand jury in April accused seven people — Rath and his wife, Jennie; Angelo and Concetta Yannone, tenants at the second destroyed home; Tony Zito; Frank Campo; and "youthful attorney" Jasper Gullo — of being part of an arson ring designed to defraud insurance companies. The eighth defendant, Jack Feleccia, accused of being the man who delivered the gasoline, was charged later.
Police and fire marshals told reporters the ring might have been responsible for as many as 20 explosions over the preceding two years. Not all the suspect fires were identified in news stories, but they apparently included at least five residential fires and blazes at four "roadhouses." Among the latter was an explosion and fire that destroyed the Old Wayside Inn on Peoria Road in 1935, police said.
Under questioning, police said, Rath admitted he was to be paid $500 to be the straw purchaser of the two houses on Seventh Street, although the actual owner was Zito. The Raths and Yannones were warned ahead of time to clear out of the houses, according to a copy of the confession printed in the Journal.
"Tony called me on the telephone Monday night between 11 and 12 o'clock and said, 'Don't go home. We are going to do the job tonight,'" Rath supposedly said.
I had been going there and taking care of the furnace, and there was a fire there that night. I put fire in there, and I was there the time the gasoline came. There was 110 gallons of gasoline in five-gallon jars, and I helped carry the gasoline into the place and we put ten gallons in each room. Then I left there and knew no more about it until it went up.
Rath went on trial in September, but Judge Lawrence Stone directed a verdict of not guilty on the grounds that there was a conflict between the charges, which said Rath owned the house at 823 N. Seventh St., and the prosecution's own evidence (Rath's confession), which identified Zito as the owner.
Rath was tried again in February 1938. On the witness stand then, Rath said he made up the story after being beaten by a fire marshal and an insurance investigator.
"One time I was knocked out of the chair," he said. "They called me a damn liar and when I couldn't take any more, I signed the paper they gave me."
The second jury couldn't reach a verdict, so Rath underwent a third trial in October 1938. That time, he was acquitted. By then, Feleccia also had been found not guilty in a separate trial, which also revolved around a disputed confession.
In June 1938, meanwhile, prosecutors had dropped their case against Gullo, the lawyer — apparently to everyone's satisfaction, because, before the year was out, Gullo was appointed a Sangamon County assistant state's attorney.
State's Attorney William Roberts, bowing to the inevitable, dismissed all charges against the remaining defendants in November 1940.
According to his tombstone at Calvary Cemetery, William Rath died "of wounds recieved (sic) in service overseas Oct. 26, 1944." He was 36 years old.
Editor's note: Thanks to Catherine Vetter (1898-1980), my grandmother, for posthumously suggesting this entry.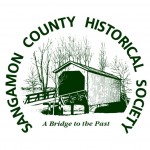 Original content copyright Sangamon County Historical Society. You are free to republish this content as long as credit is given to the Society.