Elizabeth "Bettie" Stuart Brown (1838-69) was the oldest child of John T. Stuart and Mary Nash Stuart. John Stuart was Lincoln's first law partner and Mary Lincoln's first cousin.
Bettie was born in July of 1838, nine months after her parents married. The same year she was born, her father defeated Stephen A. Douglas for a seat in Congress. John Stuart's departure for Washington in 1839 left his wife at home alone with the baby and his law partner Lincoln alone in the office with their legal practice. Lincoln often visited Mary Stuart to deliver letters and to visit with Bettie — in a letter Lincoln wrote in December 1839, when Bettie was a year and a half old, he called her a "tolerably nice fellow."
In due time Bettie was joined by six siblings: John, Virginia, Frank, Robert, Hannah, and Edwards. As a teenager she attended school at the Monticello Female Seminary in Godfrey, Ill. This school was the favored place of female education for Springfield's elite; at various times the daughters of Stephen T. Logan, Benjamin Edwards, and James Lamb were also students there.
On Oct. 20, 1859, Bettie married a young local attorney named Christopher C. Brown. The wedding was a large one, with more than 300 guests in attendance. Among them was Abraham Lincoln, who had made a special trip back from court in Champaign County to attend the wedding. The Lincolns gave Bettie and Christopher a silver plated coffee urn as a gift. This urn is now in the collection of the Abraham Lincoln Presidential Library and Museum.
John T. Stuart and his law partner Benjamin S. Edwards soon extended an offer for Christopher to join their law partnership, which had existed since 1843. The firm of Stuart, Edwards, and Brown was formed on the first day of January, 1860. Bettie and Christopher moved to a small frame house on the corner of Third and Jackson streets near the Chicago & Alton railroad tracks.
On Aug. 21, 1860, as Lincoln's election to the presidency drew near, Bettie gave birth to her first son, named Stuart for his grandfather John T. Stuart. While she pregnant with her second child, the family's house burned down, ignited by a spark from a passing locomotive. Bettie, Christopher, and Stuart lived with Bettie's parents while their new house was being built. Her second son was born May 31, 1863. He was named Edwards, for her husband and father's law partner, Benjamin S. Edwards.
Bettie's last son, Paul, was born Jan. 20, 1868. Benjamin Edwards's wife Helen wrote a letter to her daughter on Jan. 23 in which she mentioned the news:
Betty Brown has another boy – born last Sunday night. I think Betty was disappointed that it was not a girl, but Chris says it is a splendid baby, and he has named it Paul. Alice thought it must be after the Apostle, and I ventured to ask him, if this was so? He replied "yes, I guess it was." I told him, the male tribe of Brown's was so large, I suppose he thought all the common names had been used up in the family. Well said he "that is so, and I must hit upon uncommon names."
Bettie Stuart Brown died on March 2, 1869, of dysentery. She was 30 years old, and had been ill for 12 days. Conscious until the very end, she had given directions for her burial and dictated messages to all her friends and relatives. Her funeral was held the next day at the First Presbyterian Church.
She is buried in Oak Ridge Cemetery. Her last words are etched on her tombstone: "Come, Lord Jesus, come quickly."
Christopher Brown founded the Bettie Stuart Institute, which for 70 years educated the daughters of many of Springfield's most prominent residents, in his late wife's honor.
Contributor: Erika Holst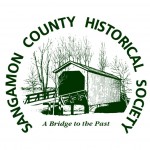 Copyright The People Lincoln Knew, a blog by Erika Holst. Reprinted by permission.