Caroline "Lina" Lamb Black (1831-1908) was the third child of James Lamb, a prosperous Springfield merchant and pork packer. She was born in Kaskaskia on Feb. 8, 1831, and moved with her parents to Springfield two years later.
Mary Lincoln's sister Frances recalled that Lina Lamb was a bridesmaid in the Lincolns' wedding. This recollection is probably in error, as Caroline was only eleven years old when Mary Lincoln was married. Still, Lina and her family would have known Mary and Abraham Lincoln. Mary's sister Elizabeth's nephew, John Cook, was married to Lina's sister Susan.
On Dec. 19, 1855, Caroline Lamb married William James "Jimmy" Black.
John T. Stuart wrote this wonderful account of the wedding in a letter to his daughter Bettie, then in school at the Monticello Female Seminary in Godfrey:
Lina has ceased to be a Lamb and is now a Black shall I say sheep! At precisely 20 minutes of 8 oclock mother and myself sallied forth from the front porch both dressed in our best. What a brilliant night. There is the moon nearly full, near the meridian and there just above the Eastern horizon is Orion with his brilliant suit! There to the North is the great Bear and as I turn around to close the gate see how brilliant and majestic Venus looks as she bids adieu to the stars of night ere she sinks behind the western wave! And all those stars how they glisten and shine like jewels in [your] deep blue vault! How the gas lights pale before the lights which strangle the sky! But here we are at Mr Lambs. Every window below and above how they flame with Gas! As we enter the gate I say to Mother I am afraid we are too early I expect we are first. We ring the door is opened thunder and lightning!! Every room even the passage is crowded. Mother goes up stairs. A friend says to me while standing in the passage why Stuart you are late the ceremony is nearly over! I step quickly to the Parlor door I looked over a sea of heads and at the further side of the Parlor there is Mr Dodge! He is giving them some good advise! Lina stands with eye modestly looking at the carpet. Her white veil hangs gracefully over her splendid white silk dress. She leans somewhat towards Black as if she said my hopes of happiness here below I entrust to you I love – I have faith – I hope. She looks pretty. Black has his eye fixed on the Parson, but it seems to me as if he was pressing Lina's hand and merely saying Trust in me I love you! Black's face usually dull and indicating a want of energy seems in a blaze of animation. He looks handsome now. Stir him up Lina – he has talent if you can make him exert it. His temperament is something like my own. Like a terrapin he needs coals of fire upon his back to make him reach forth his head. Lee Kimball is next to Black he looks pale – he has been shaking with the ague, and May Roberts is next to Lina. And there is Hannah her white [shule] becomes her and the wreath with two large roses in the centre and smaller ones on each side one wreath on the head and one on her bosom. She looks a little agitated is she thinking of her lessons – her examinations on moral philosophy next Monday or is she thinking of that handsome young man with whiskers? Who is he? A Mr McDowell from St. Louis and further this deponent saith not. Ask Han. But the ceremony is now over I must seek mother. Now she comes down stairs. We press through the crowd. We push and they push. We tread on their toes and they tread on ours. See there Judge Logan with Miss Mary on his arm! He is making towards the Bridegroom and Bride – look at his forehead – how the seat rolls down! He would rather argue a case in the Supreme Court than to struggle thus! All the world is here! All the sewing societies have broke loose! Look at Black as he shakes hands with friend after friend – he looks magnificent! We reach the Bride & Bridegroom – we greet them, and now let us get out of this squeeze as soon as possible. As we turn to reach the passage by another door we meet Cullom with his Bride on his arm. My Students are in luck! I reach the passage I back into a corner and look upon the crowd – Here come Julia Latham and Miss Nora! Ben Ferguson and John Barrett are making themselves agreeable to them. Here comes Miss Bell and Lizzie Calhoun, both dressed very fine and some strange beau between them, and here is Anna Van Bergen – she looks plain – and there is Cousin Julia Baker. Oh! It is love's young dream! And there is Uncle [X] and here is cousin Lizzie and Mrs Lamb of Alton. How many old acquaintances seem to be thrown together tonight! There is Mrs Wells – Mrs. Brookin and Miss Bradly I will cross over and speak to them. How superior is intellect & the refinement of calculation to the mere animal, beautiful though it be! Miss Bradly says where is Betty I understood you went down for her? I reply I did but Betty although she wanted to come thought it her duty to stay. I am glad of it replied Miss Bradley.
But look they are crowding in to [X] supper. Mother takes my arm. We go with the crowd. We take our station at the table. Mother stands by Auntie – next is Mrs. Young, next is Mrs Matteson. Close by are Cousins Mary Lincoln Lizzie Edwards and Mrs B. S. Edwards.
First oysters – salad &c. – then ice cream and cake – Cousin John please fill my saucer again. You have helped me the fourth time, but you [x] me so [bitter]!
The supper is over the crowd is gone. It was a gay crowded company. The lamps shone bright and beauty elegance refinement thronged the aristocratic halls and my Bettie was not there?
The Blacks' joy together was short-lived; Jimmy died in 1861 at age 33. He had been battling consumption for several years and had gone to St. Louis to seek medical treatment. The cause of his death was given as "internal hemmorhage."
The couple had no children together. Caroline went home to live with her mother. She died in 1908 at age 77.
Contributor: Erika Holst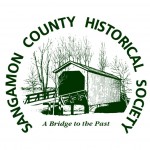 Copyright The People Lincoln Knew, a blog by Erika Holst. Reprinted by permission.