One of the more colorful Lithuanian-American businesses in Springfield was the Cara-Sel Lounge, Seventh Street and North Grand Ave, operated for 17 years by Tony and Carol Yuscius.
Tony (1923-2009) was the son of Lithuanian-born Joseph and Marcella (Radavich) Yuscius. After Joseph, a coal miner, died of black lung disease, Marcella and her eight children fell on hard times. (The Cohen family, who operated a grocery, and later, The Mill tavern and restaurant, are said to have assisted Marcella, and many others, with grocery credit.)
The hard times known by many Lithuanian families in Springfield, generated by death in or from the mines, not to mention mass mine layoffs, led youngsters like Tony and his siblings to work from a young age to support their families. The same conditions led many to launch their own small businesses.
Tony got his business opportunity after he graduated from Lanphier High School and served in the U.S. Army in the European-African-Middle Eastern Theater during World War II, earning three bronze service stars.
It's hard to know how Tony got the idea for the Cara-Sel Restaurant and Bar — a play on the world "carousel" — with its colorful circus-theme décor and circular bar. ("Follow our bar round 'n round — you will certainly find your friends here.")
Tony and his wife Carol operated the Cara-Sel from  the 1950s until the early 1970s. There were many neighborhood tavern and restaurant proprietors in Springfield during the period, so it was a challenge to stand out. After a more family-oriented start indicated by its circus theme and enlarged kitchen, the Cara-Sel hopped on the "mod" train during the 1960s, with mini-skirted, dancing go-go girls at night.
The establishment made an impression on its patrons:
– When I went there it was a nice place for a couple of girls to go, have some drinks and maybe meet a couple of guys. I also went there on dates, like after a movie.

– When I was a boy, my father drove a truck and would arrive home on Saturday mornings, at which time I would accompany him to the Carousel (sic) for lunch. Late at night, there were cages and go-go girls, and still being in grade school, I would not have been welcomed. The Teamsters had their office directly across the street. One block to the east was the Pantheon Theatre, and next door was Palazzolo's Soda Shop, where all the Lanphier students gathered. Noonan Hardware and Ben Franklin Five and Dime were on the same block.

– They had a left-handed/right-handed drinking club. You had to drink with whichever hand (on the wall?) behind the bar was lighted. We paid to join and there was a fine for getting caught drinking with the wrong hand. The reward was a free eat and drink party once a year for the members. Neat place.
In the 1970s or early 1980s, Tony and Carol reversed direction, closed the Cara-Sel and converted the premises into the Northtown Child Care Center, a day care they operated for 20 years.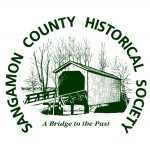 Contributor: Sandy Baksys. All material in this entry is copyright Lithuanians in Springfield; reprinted with permission.