Note: This entry has been updated and expanded.
Religious differences on the  island of Madeira were the unlikely backdrop for an equally unlikely influx of immigrants — people of Portuguese descent — to Sangamon County in 1850.
Members of the group had been converted on Madeira from their traditional Catholic faith to Presbyterianism  in the 1830s and '40s. The conversion led to conflict with their Catholic neighbors.
According to a 2007 book review by Stuart Fliege:
(T)he Protestant movement on Madeira endured severe harassment. A series of attacks by rioting Catholic mobs were accompanied by beatings and there was torture and even one or two murders. Soldiers helped the mobs loot houses after hundreds of Presbyterians fled to the caves and ravines in the nearby hills. As a result, the bulk of the Portuguese Protestants left the island in a wave of immigration.

The Madeiran Protestants originally went to the West Indies island of Trinidad, but the oppressive climate and labor conditions forced them to look to America. A host of volunteer efforts and financial support helped pave the way and by 1849 they began arriving in Springfield, Jacksonville, and Waverly….
As a result of the Portuguese immigration, both Jacksonville and Springfield ended up with neighborhoods informally labeled "Madeira" — in Springfield's case, the area was between Ninth and Tenth streets along Miller and Carpenter streets.
A Portuguese Presbyterian Church began operating at Seventh and Reynolds streets in the 1850s, but a dispute over baptism led to the founding of the Second Portuguese Presbyterian Church in 1858. The Second Portuguese Presbyterians built a church at Eighth and Miller streets in 1861; that building, now used by the Mental Health Centers of Central Illinois, might be the oldest church structure in Springfield.
The two congregations reunited in 1897 as First Portuguese Presbyterian Church; as non-Portuguese gradually made up a larger proportion of the membership, the name was changed to Fourth Presbyterian Church in 1908.
Illinois State Journal writer Beulah Gordon traced the history of the local Portuguese  in a 1955 article on the centennial of Fourth Presbyterian Church.
Forced to flee Madeira leaving behind their lands, houses and possessions, the Portuguese were brought to America by church groups. They arrived penniless, strangers in a foreign land in which they could not speak the language. …

The Portuguese … quickly established themselves as frugal, hard working and intelligent citizens. Today, 100 years following their advent, they have contributed to almost every phase of community life.
Rev. Robert Kieser (1896-1959) probably is the best-known of Fourth Presbyterian's ministers. Kieser, pastor of the church from 1948 until shortly before his death, was blind. His seeing-eye dog, Prue, accompanied him everywhere, even in the pulpit. Kieser, who became blind in his 40s, spoke around the U.S. about his condition; his talks were usually titled  "Adventures in Darkness."
Fourth Presbyterian Church eventually was merged into Clementine Memorial Presbyterian Church (now the non-denominational Clementine Memorial Church), 2075 N. 11th St. In 1979, the $50,000 proceeds of the sale of the Fourth Presbyterian building were spent to help build a new church, New Life United Presbyterian Church, at 2501 Sangamon Ave. That building now houses Springfield's Korean Presbyterian Church.
Family names like Fernandes and Gouveia in central Illinois today indicate descent from some of the original Madeira islanders.
More information: Lincoln Library's Sangamon Valley Collection has two useful reference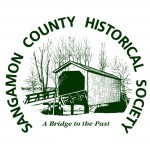 s on Springfield's Portuguese community: The Gathering of the Portuguese: Fourth Presbyterian Church, Springfield, Illinois, by Wanda Allers (1984); and Minutes of Fourth Presbyterian Church from Dec. 4, 1892, to April 17, 1933 (1934).
Original content copyright Sangamon County Historical Society. You are free to republish this content as long as credit is given to the Society. Learn how to support the Society.