Quick facts about Illiopolis High School (the link connects to much more school information on Illinois Glory Days, a website that chronicles more than 1,100 closed high schools throughout Illinois).
Year opened: Late 1880s
Year of 1st graduating class: 1891 (9 students)
Year brick HS building built: 1926
Year closed: 2004
Consolidated to: Sangamon Valley School District (Niantic)
Illiopolis HS team nickname: the "Pirates"
IHS team colors: Red & Black
School Fight Song: "Illiopolis Loyalty"
 (University of Illinois Fight Song Tune)
 We're loyal to you, ICHS.
We're Red and we're Black, ICHS.
We'll back you to stand,
'Gainst the best in the land,
For we know you have sand, ICHS!
Rah! Rah!
So crack out that ball, ICHS.
We're backing you all, ICHS.
Our team is our fame protector,
On boys, for we expect
A victory from you, ICHS!
Thanks to Phil Shadid for directing us to Illinois Glory Days.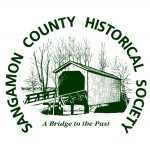 Original content copyright Sangamon County Historical Society. You are free to republish this content as long as credit is given to the Society.