Quick facts about Ball Township High School (the link connects to full  information and more photographs on Illinois Glory Days, a website that chronicles more than 1,100 closed high schools throughout Illinois).
Year opened: September 1923 (35 students in attendance)
First graduating class: 1924 (2 seniors)
Year closed: Sept. 1948, to form Ball-Chatham district
Last Graduating Class of Ball-Chatham: 1956 (43 seniors)
Year closed: March 1957 (still used as elementary school)
Consolidated to: Chatham Glenwood HS, March 1957
Ball Township HS team nickname: "Redskins"
BTHS team colors: Red & White
School Fight Song: "We Are Proud of You, Ball Township High"
We are proud of you, Ball Township High,
The finest in the land.
We will fight for you,
We will boost for you,
We'll pledge our heart and hand,
Rah! Rah!
We will keep your colors ever high,
No glory shall they lack;
We will fight, fight, fight,
With all our might
For the dear old red and white!

Thanks to Phil Shadid for directing us to Illinois Glory Days.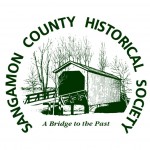 Original content copyright Sangamon County Historical Society. You are free to republish this content as long as credit is given to the Society.