The list below of high schools that no longer exist in Sangamon County is taken from Illinois Glory Days. The site describes itself as  "a collaborative effort to preserve Illinois history, as reflected in high schools which no longer function, but nonetheless encapsulate the best of who we are and have been."
As of June 2014, Illinois Glory Days had information on 1,162 closed high schools throughout Illinois.
Illinois Glory Days  is written and maintained by amateur contributors, among them Phil Shadid of Springfield, who compiled much of the information on former Sangamon County schools.
In addition to basic information on each school, the school sites often include memories written by graduates and former students. Sports records are well documented for nearly all of the schools.
The list below links each of the schools to its Illinois Glory Days history. Basic information on each school, also from Glory Days, is contained in individual entries on SangamonLink.org. See our Index page to find those entries.
Springfield Cathedral / Griffin
Springfield Sacred Heart Academy
Thanks to Phil Shadid for directing us to Illinois Glory Days.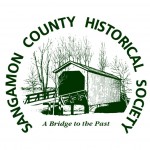 Original content copyright Sangamon County Historical Society. You are free to republish this content as long as credit is given to the Society. Learn how to support the Society.