Springfield native John Hugh Catherwood (1888-1930), a seaman on the U.S. Navy gunboat USS Pampanga during what is called the "Action against Philippine Outlaws" in 1911, received the Medal of Honor for his actions during a firefight with Moro rebels.
Here is the full text of his citation:
While attached to the U.S.S. Pampanga, Catherwood was one of a shore party moving in to capture Mundang, on the island of Basilan, Philippine Islands, on the morning of 24 September 1911. Advancing with the scout party to reconnoiter a group of nipa huts close to the trail, Catherwood unhesitatingly entered the open area before the huts, where his party was suddenly taken under point-blank fire and charged by approximately 20 enemy Moros coming out from inside the native huts and from other concealed positions. Struck down almost instantly by the outlaws' deadly fire, Catherwood, although unable to rise, rallied to the defense of his leader and fought desperately to beat off the hostile attack. By his valiant effort under fire and in the face of great odds, Catherwood contributed materially toward the destruction and rout of the enemy.
Catherwood was one of five Navy personnel to receive the Medal of Honor, the highest award given members of the U.S. military (it is often referred to, incorrectly, as the Congressional Medal of Honor) as a result of the skirmish.
The commander of the shore party, Ens. Charles Hovey, was killed during the fight.
By that December, Catherwood was able to tell his mother, Elizabeth Catherwood of Springfield, by letter that he was recovering "and hopes soon to be about as usual."
Catherwood died in 1930 in Chester and was buried at Springfield's Oak Ridge Cemetery. At the request of his family, Catherwood was reburied in 1987 at Camp Butler National Cemetery. He is the only Medal of Honor recipient buried at Camp Butler.
Thanks to Ray Johnston of the Medal of Honor Historical Society of the U.S. for bringing Mr. Catherwood's honor to the attention of SangamonLink.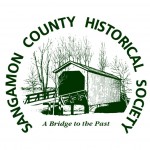 Original content copyright Sangamon County Historical Society. You are free to republish this content as long as credit is given to the Society.