Meredith Rhule (1910-74), a Springfield native, led Burmese and Chinese guerrillas, often behind Japanese lines, during World War II. He won election as Sangamon County sheriff in 1946, but served only one term after newspaper investigations found he had ignored wide-open gambling in the county.
Rhule, a lifelong athlete and physical fitness advocate, first gained local fame at age 16, when he became a professional wrestler. Over an eight-year career, he frequently wrestled in local bouts sponsored by promoter Johnnie Connors. Rhule retired as a wrestler in 1934, after an estimated 400 matches. He then briefly became business manager and player for the New York Shamrocks traveling basketball team.
Rhule and close friend Carl Franke of Springfield were on a motorcycle tour of Europe in September 1938, when Germany appeared to be on the verge of invading Czechoslovakia. Franke later wrote about a chilling encounter he and Rhule had in a bar full of German soldiers, followed by their quick exit from Germany — only a day before Adolf Hitler and British prime minister Neville Chamberlain signed the infamous Munich Agreement.
Rhule was named chief deputy by Sangamon County Sheriff Harry Eielson in 1942, but he then joined the U.S. Navy, where he was commissioned as a lieutenant. He later was attached to the Office of Strategic Services, the forerunner of today's Central Intelligence Agency, and was deployed to the Burma/India/China theater of war.
"My job was to gather intelligence for the OSS on espionage, sabotage and planned assassinations," Rhule told the Illinois State Register's Jerry Owens for a story published on Feb. 25, 1972. "Often, it meant parachuting behind Japanese lines and hiding out for months while I did my spying."
Barney Rosset, who won freedom of expression battles as the owner of Grove Press after the war, encountered Rhule while serving as a U.S. Army photographer. Rhule was a striking character, Rosset said in a later interview.
Meredith "Muddy" Rhule … was from Springfield, Illinois, where he had been a cop. … He had also been a professional wrestler, was strong as an ox, and was an unbelievable deadly shot with a gun. He had a very strong streak of morality — you couldn't go out with girls you weren't married to — and he led a unit of OSS people.

His job was to take a squad of Chinese and go out along the Japanese line and steal back or destroy all the stuff that the Chinese army had sold to the Japanese. …

I have photos of Rhule running track, and going for runs in the mountains. We went with him, and the Chinese peasant women thought we were the finest thing they had ever seen — and they would run along with us. …
During operations, Rosset said, "I hardly ever understood what I was doing."
There were Chinese officers who appeared from nowhere while we were in enemy territory. I have photographs of them — I never knew who they were, or what they did. Some spoke English, but I couldn't talk with them. It was all very strange then. …

Rhule always understood what was going on. He kept everything together by the sheer force of his personal magnetism.
Rhule's constant companion in China was a monkey named Dudley, which usually sat on his shoulder, something made easier because Rhule turned up the brim on the left side of his hat. When Frank Sinatra made a movie, "Never So Few," about World War II guerilla operations in China, his character also boasted a pet monkey and a turned-up hat. Rhule, however, said little of the rest of the movie was true to his actions in the war.
Rhule received a Bronze Star from the U.S., as well as the Order of the Cloud and Banner and Order of Jade citations from Chiang Kai-Shek's Chinese Nationalist government. He also was offered the job of training the Nationalists' secret police at the end of the war, Rhule said, but he declined.
Rhule had told Rosset his "ambition in life" was to be Sangamon County sheriff, a goal he reached in 1946. However, when the St. Louis Post-Dispatch began investigating gambling in downstate Illinois in 1948, Rhule admitted to reporter Roy J. Harris that he had turned a blind eye to wide-open gambling throughout the county.
Although he was coy about whether he was receiving payoffs from gamblers, Rhule said he had not run for sheriff as "a blue nose and reformer."

"Why, if I were to knock over all the gambling places, the merchants would raise hell, because they believe gambling brings money into the area and helps business," Rhule told Harris.
Following the Post-Dispatch's revelations, Rhule apparently adopted a new attitude, ordering casinos and other gambling operations closed in county areas where he had jurisdiction. Newspaper stories also indicate his office was an active participant in raids mounted after reform State's Attorney George P. Coutrakon was elected in 1948. Rhule, however, did not seek re-election as sheriff in 1950.
Rhule went on to become vice president of Land of Lincoln Bank and held positions in the offices of Illinois superintendent of public instruction and the secretary of state. He also served as president and national director of the Navy League.
Sources: Illinois State Journal and Illinois State register articles, Sangamon Valley Collection, Lincoln Library.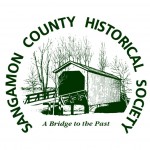 Original content copyright Sangamon County Historical Society. You are free to republish this content as long as credit is given to the Society. Learn how to support the Society.