Henry Long operated a brewery near present-day Fayette and Feldkamp streets in the late 1860s and early 1870s
Long paid $2,500 for a 14-acre tract of land from Peter and George Miller on Sept. 22, 1865. The land, at the southwest corner of Lawrence Avenue and Feldkamp, was beyond the western edge of Springfield and on what would have been considered the old Jacksonville road.
Before coming a brewer, Long operated a grocery and confectionery with his brother Charles on Fifth Street between Adams and Monroe streets.
Long is first listed as a brewer in the 1866 Sangamon County Gazetteer.  A news article indicated that Long operated a brewery near the Avenue House in 1867. The Avenue House was established sometime in 1866 at the end of the street railway at Governor and Amos streets.
Long and another man named Litterot were reported to have opened the West End Brewery in December 1868. The brewery was on Long's premises, "a short distance south of the western terminus of the Capital Horse Railway." The machinery and buildings of the business were valued at $12,000.
Henry Long was listed in the 1870 census as a German-born brewer owning $5,000 worth of real estate and $3,000 in personal property.  Another brewer, Joseph Leiter, lived two houses away from Long, according to the census; he probably was the "Mr. Litterot" mentioned in the 1868 newspaper article.
During some of  the time he operated his brewery, Long also owned a saloon on Adams Street between Fourth and Fifth streets. He was fined for liquor violations on three occasions between 1866 and 1869.
On April 16, 1871, a fire destroyed the brewery building, along with the machinery and grain inside it.  A large stock of beer stored in vaults was said to have been uninjured. The loss from the fire was estimated to be $8,000 to $10,000. The Longs lost their property the next month, after they failed to pay off a $6,000 note owed against the property.
Henry Long apparently died in 1872.  His widow, Hanora, stayed in the liquor business to some extent. She is listed in the 1877 SangamonCounty directory as operating a saloon at her home and the 1880 census gave her occupation as a retired brewer.
Contributor: Curtis Mann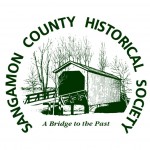 Original content copyright Sangamon County Historical Society. You are free to republish this content as long as credit is given to the Society.