Design and construction of the Abraham Lincoln Presidential Library and Museum took years and involved a variety of political squabbles and maneuvering. If politics could have been put aside, the facility would have been completed much sooner. Of course, since Mr. Lincoln was a politician, maybe he would have expected all the fuss.
The first presidential library, honoring Rutherford B. Hayes, was built in 1916 in Fremont, Ohio, but the modern presidential library dates from Franklin D. Roosevelt, who designed his own library. "FDR invented the presidential library as we know it by thinking of his life as a tourist attraction," wrote Benjamin Hufbauer in Presidential Temples: How Memorials and Libraries Shape Public Memory. 
But, even though the idea of libraries and museums dedicated to honoring specific presidents had been around for almost a century, it took nearly 150 years to create such a facility to honor Lincoln. How the ALPLM finally opened is a long story.
In 1998, Gov. Jim Edgar asked the General Assembly for $4.9 million to plan and design a Lincoln presidential library. The total cost initially was projected to be $40 million, including the $4.9 million in design funds.
Springfield Mayor Karen Hasara then vowed that the city would commit $10 million to the development of an Abraham Lincoln Presidential Library. After some debate, city-owned property — former police and fire stations at 617 E. Jefferson St. and 201 N. Seventh St. — was chosen as the library site.
In May of 1998, the estimated construction price was raised to $60 million. "The original $40 million cost estimate for the project was really rough and kind of conservative," said Ernie Slottag, spokesman for Hasara. In April of 1999, however, the price rose again, this time to a as much as $148 million on the upper end of a spectrum of figures. (The Chicago Tribune in 2008 put the final cost at $145.2 million.)
In October of 1999, Congress approved $3 million in federal spending for planning. "A small amount," said supporters. "Nonetheless a very important commitment." The state pledged $50 million, while the city of Springfield continued its promise of $10 million.
Local politics didn't stop as the project progressed. In January of 2000, Springfield Ward 2 Alderman Frank McNeil questioned the use of tax increment financing funds to "repay" the city for revenue it would have received if it had sold the properties the city donated for the museum. McNeil argued the shift was never formally approved by aldermen. The mayor's chief of staff and economic development director responded that the transaction was entirely legal.
It wasn't any easier to get money from the Federal government. In March of 2000, Terrel Emmons, associate director of the National Park Service, told a U.S. House subcommittee that the Park Service opposed funding the proposed library because the NPS needed money for other projects. A year later, John Sellers, Lincoln curator at the Library of Congress, said the library would have limited value to historians.
"Springfield is an out of the way place," Sellers said. "That means the complex will be of more interest to tourists than researchers."
The House ultimately gave its approval, and Illinois' two senators at the time, Richard Durbin of Springfield and Peter Fitzgerald of Inverness, asked a Senate subcommittee in July 2000 to agree to spend $50 million over six years for the library and museum.
Fitzgerald "noted that even Confederate leader Jefferson Davis has a library preserving his legacy. 'Yet for one of our greatest presidents…there is no central repository for material related to his life."
By September of that year, however, Fitzgerald was saying something different, vowing to filibuster the appropriation unless Illinois used federal bidding rules to construct the library and museum.
"The least we can do in building this library to honor Honest Abe is to have an ethical bidding process built into law," Fitzgerald said on Sept. 28, 2000.
On Oct. 4, as promised, Fitzgerald did what he promised held up passage of the bill by talking for hours about "alleged sweetheart deals for well-connected GOP donors."
One of the people he was talking about was William Cellini, a Springfield developer and political activist whose wife, Julie, was involved in raising money for the museum, along with Gov. George Ryan's wife, Lura Lynn. Gov. Ryan called those comments "a cheap shot," and Hasara said the city and presidential library "are being used as nothing more than pawns in a personal political vendetta." (William Cellini later was sentenced to federal prison for an unrelated crime.)
U.S. Sen. Slade Gorton, R-Washington, said, "I can certainly not remember any other instance in which a member from a state that is getting a benefit from the bill has looked so carefully at the teeth of a gift horse."
No changes were made in the bill as a result of Fitzgerald's filibuster, but Fitzgerald wasn't done trying.
In January 2001, Fitzgerald continued to anger his colleagues when he refused to sign a letter from the Illinois congressional delegation to President George W. Bush that included a list of requests for funds that they wanted included in the federal budget for 2002. The letter sought  funding for hundreds of Illinois projects, including the Lincoln museum. "A Fitzgerald spokesman said, 'the senator wasn't just going to sign off on a 32-page list with about 250 projects … just because somebody somewhere put them in a mega-hog letter,'" the Associated Press reported.
Bush's 2002 spending plan did not include money for the museum, but Illinois' legislators eventually engineered a bill approving continued spending of the $50 million committed by Congress.
Groundbreaking ceremonies for the library portion of the Lincoln complex were scheduled for Lincoln's birthday, Feb. 12, 2001, in the lobby of National City Bank, across the street from where the library would be built. Expected to attend were the Ryans, Durbin, U.S. House Speaker Dennis Hastert, and historian Michael Beschloss. Not planning to be there was Fitzgerald, whose schedule called for him to be the featured luncheon guest at the 19th Century Women's Club of Oak Park.
The next controversy to pop up had nothing to do with Fitzgerald.
Late in the spring 2001 legislative session, Illinois lawmakers authorized $20 million to remove  buildings in the blocks bordered by Fifth, Sixth, Washington and Jefferson streets (some of which are historical themselves) and create a "vista" between the Old Capitol State Historic Site and the library and museum. The open area left after the buildings were demolished was to include a park, paths, and perhaps a reflecting pool. Plans were so far along they had even had an artist design the vista.
One problem was that few officials were aware of the vista proposal. Hasara said she was shocked by the plan, and Ed Russo, who headed the Sangamon Valley Collection at the Springfield city library, called it "the most startling thing I've heard in my 30 years as city historian." Proponents said the vista would make the city prettier, with more grass and flowers and a better gathering place. But Carolyn Oxtoby, who owned some of the property that would have been taken, called the vista "a stupid idea." Enough people agreed with her that the idea didn't go very far.
Library construction wasn't finished by the end of 2002, but that did not stop Ryan from holding what was called a "ceremonial grand opening" in November 2002. Some saw the event as one last party for the governor, who would not be in office when the library actually opened.  The ceremony was hosted by CNN's Bernard Shaw and featured many dignitaries, including Andrew Card, chief of staff to President George Bush.
At the ceremony, Ryan defended his chief of staff, Robert Newtson, whom Ryan had pushed to become the director of the library and museum. The controversy about Newtson wasn't settled until October 2003, when Gov. Rod Blagojevich announced that historian Richard Norton Smith had been named the first director of the library and museum.
The library and museum complex fully opened on April 19, 2005, in public ceremonies attended by President and Mrs. George W. Bush, U.S. Sens. Durbin and Barack Obama and many others.  Neither Sen. Fitzgerald nor Gov. Ryan was there.
Contributor: A.J. Lust (Blessed Sacrament School, Springfield)
Sources: Newspaper articles, particularly in Springfield and Chicago papers; Congressional Quarterly; Presidential Temples: How Memorials and Libraries Shape Public Memory, Benjamin Hufbauer (2006);The Ideals Guide to Presidential Homes and Libraries, Peggy Schaefer (2002).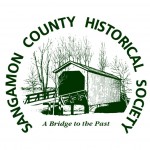 Original content copyright Sangamon County Historical Society. You are free to republish this content as long as credit is given to the Society. Learn how to support the Society.