Under the Gas-Light: Or Lights and Shadows in the State Capital of Illinois (1879) is a collection of 31 essays originallywritten as "Rambles" in the Sangamo Monitor, a Springfield newspaper published from the 1870s into the 1890s. The writer of the Rambles was Daniel Leib Ambrose, city editor of the Monitor early in the paper's existence.
Ambrose (1843-1922), born in Ohio, came to Logan County, Illinois, with his family at about age 12. He enlisted in the Seventh Illinois Volunteer Infantry in 1861 and served through the Civil War, apparently rising to the rank of captain. The Seventh had an eventful war, fighting in the battles of Fort Henry, Fort Donnelson, Shiloh, Corinth, Miss., and Allatoona Pass, Ga., among others — a record Ambrose detailed in a diary-style history of the regiment published in 1868.
Ambrose moved to Springfield following his marriage to Fanny Tichenor in 1873, becoming a printer, then a reporter and finally the Monitor's city editor. He published his first Ramble in summer 1878.
"Ambrose's columns were purposely vague and ambiguous, perhaps to be evocative, perhaps to avoid a lawsuit," Bill Furry wrote in the September/October 2010 edition of Illinois Heritage magazine. "He uses very few proper nouns to identify local citizens or the places he chose to write about. Although the subjects of his 'essays' were undoubtedly identifiable to his contemporaries, they are veiled to the point of obscurity for modern readers."
Ambrose wrote at least 56 Rambles for the Monitor, Furry reported, although Under the Gas-Light contains only 31.
Some Rambles delve into domestic subjects — Furry's article focused on a group of Ambrose's essays that revolve around the deaths of Fanny and the couple's infant son, Frank, in 1879. Others reflect on small dramas acted out in the streets, businesses and institutions of Springfield.
Ambrose's Rambles can be maddeningly indirect, and virtually all suffer in a modern reading from the religiosity and sentimentality characteristic of much 1870s writing. Nonetheless, the best of Ambrose's essays remain powerful and effective.
Here is Ramble XII from Under the Gas-Light (reproduced as it appears in the printed collection), the brief story of a family — and their dog — embroiled in criminal court.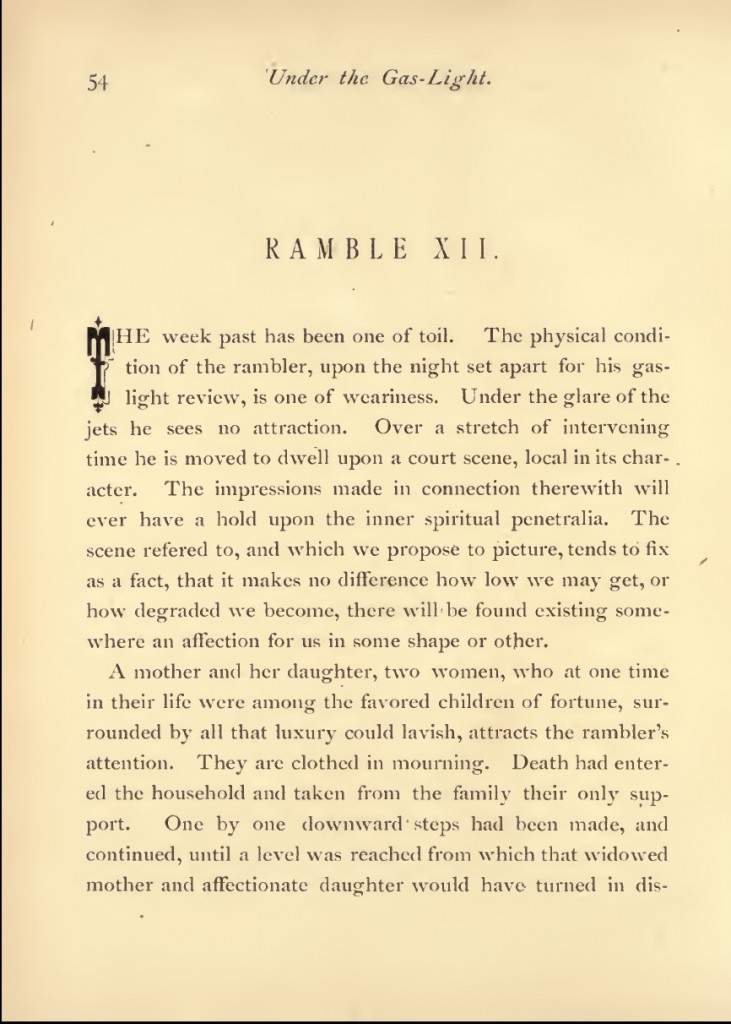 Ambrose left Springfield in 1891 for Chillicothe, Mo. He later moved to Chicago and finally to Canton, Ill., where he was city editor of the Canton Daily Register and where he died in 1922. He is buried next to Fanny at Oak Ridge Cemetery.
More information: Furry's Illinois Heritage article on the relationship between Daniel and Fanny Ambrose, and its impact on his essays, provided much of the context for this entry. A shorter version appeared in Illinois Times in May 2002. However, neither appears to be available on the web.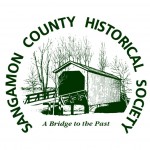 Original content copyright Sangamon County Historical Society. You are free to republish this content as long as credit is given to the Society.