The 1860 federal census of agriculture for Sangamon County reported the county had 2,237 farms encompassing a total of 379, 512 acres.  The average farm size was about 170 acres.
County residents owned 12,607 horses, 8,121 milk cows, 17,363 beef cattle, 45,420 sheep and 62,917 hogs.  The average farm had five horses, three milk cows, 11 beef cattle, 20 sheep and 28 hogs. (The figure for sheep is misleading because only 21 percent of all farms owned sheep. In fact, 19 farms owned 71 percent of all the sheep in the county.)
Sangamon County farms produced 3,599,405 bushels of Indian corn, 303,747 bushels of wheat and 180,025 bushels of oats in 1860. The average farm produced 1,669 bushels of corn, 192 bushels of wheat and 184 bushels of oats.
With the exception of a few categories, Sangamon County had not increased production of livestock or crops in the decade between 1850 and 1860. In fact, the county actually had fewer livestock in categories like beef cattle, sheep, mules and asses, and swine.  Only the number of horses increased greatly — from 8,108 in 1850 to 12,609.
In grain, corn production increased by only 280,000 bushels.  Oat and wheat production switched places between the censuses.
Sangamon County had been the top county statewide in many categories in the 1850 federal census of agriculture.  By 1860, however, the rest of the state had developed agriculturally, and Sangamon County led only in numbers of horses and sheep and in corn production.
One reason for the growth in agriculture statewide between the censuses was a tremendous expansion of railroads — from 110 miles of track in 1850 to 2,867 miles by 1860.The improvement in transportation offered farmers a cheap way of marketing their crops and livestock and encouraged growth.
Contributor: Curtis Mann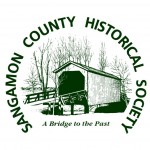 Original content copyright Sangamon County Historical Society. You are free to republish this content as long as credit is given to the Society.