Robert Stuart Fitzgerald (1910-1985) was an educator, poet, journalist, translator, editor and author who lived in Springfield for 20 years in his youth. While Fitzgerald was a student at Springfield High School, his talent for poetry came to the attention of Vachel Lindsay, who encouraged the young poet in person and by correspondence.
In his time, Fitzgerald was a friend and mentor to James Agee, William Maxwell, Flannery O'Connor and many other writers. Fitzgerald's numerous translations of Greek classics became the standard works for a generation of scholars and students. He was best known for his translations of Homer's Odyssey and Iliad and The Aeneid of Virgil.
In 1962, Fitzgerald was elected to the American Institute of Arts and Letters and, in 1963, to the American Academy of Arts and Sciences. Fitzgerald  taught at Harvard University from 1965 to 1981. In his last year, he was the Consultant in Poetry to the Library of Congress, a position now equivalent to the national poet laureate. He died at 74 in 1985.
Fitzgerald was born in Geneva, N.Y., in 1910, the son of Anne Stuart Fitzgerald and Robert Emmett Fitzgerald. Fitzgerald's paternal grandfather, J. M. Fitzgerald, had been a successful wholesale and retail dealer in groceries, wines and liquors.
Fitzgerald lived with his family in Springfield from age five or so to 18 in a frame house at 215 E. Jackson St.. He continued to visit the house until 1934, when his grandmother died and the house was sold.
The Fitzgeralds were Roman Catholics, and Fitzgerald was schooled at St. Agnes Elementary School from 1921 to 1924. He went on to Springfield High School, there not being a Catholic alternative before Cathedral Boys High School opened in 1930.
At Springfield High, Fitzgerald edited the yearbook, lettered in football and tennis, took part in the debating society, was a class officer and ranked top in his class. He graduated from SHS in 1928 and in 1968 was inducted into the Springfield High School Hall of Fame.
After stints as a journalist in New York City, he began his career as a teacher at Sarah Lawrence College in 1946. After positions at Princeton, Mt. Holyoke, and Notre Dame, among other schools, he was named Boylston Professor of Rhetoric at Harvard University, a post he occupied from 1965 to 1981. He was a member of the American Academy of Arts and Sciences and a Chancellor of the Academy of American Poets.
Fitzgerald Recalls Springfield
Late in life, Fitzgerald recalled the Springfield of his youth in a series of reminiscences. The town outside the family house on Jackson Street figures only incidentally in two of them, "Notes on a Distant Prospect" and "Light from the Bay windows," published in The New Yorker in the 1970s. These essays focus on his life with his widowed father.
A much more vivid sense of Springfield of the 1920s comes in "No Castles, No Cathedrals," published in the quarterly Antaeus in 1982. In it, Fitzgerald recalled passing through the Illinois statehouse each day on his way to and from St Agnes School; his neighborhood around Third and Jackson streets, including Mr. Brubaker's corn patch; the trains rolling to and from the then-Chicago and Alton Railroad station on Washington Street, "going slowly as they passed, their wheels on the rail junctures making a sedate rhythm, clank clank . . . clank, clank;" the plain table in the pantry believed to have once stood in the law offices of the firm of Lincoln and Herndon; father and grandmother reading to him from the local newspapers—the Democratic Illinois State Register for him, the Republican Illinois State Journal for her; Fitzgerald's adventures with a pal in a weedy junkyard between Capitol Avenue and Monroe Street, where the wreck of a flivver became for them a two-seater pursuit plane, flown on scouting or combat missions above the German lines; his two-mile walks to South Grand Avenue and back, during one of which he experienced a revelation that would inform his adult poetry.
Speaking with the Paris Review in 1984, Fitzgerald recalled his time at SHS.
I discovered I could put words together and the results were pleasing to me. After I had discovered the charms of verse, I wrote verse all the time. Then when I was a senior, a great, kinetic teacher named Elizabeth Graham conducted something called the Scribbler's Club for a few seniors. It was a class, but it called itself a club, and was engaged in writing throughout the year. They put out a little magazine. I guess that was when the whole thing came to a head.
Fitzgerald and Vachel Lindsay
Poet Vachel Lindsay had grown up at Fifth and Edwards streets, three blocks away from the Fitzgerald home, and encouraged his poetic efforts. In 1928, Lindsay wrote his Springfield High School English teacher and mentor, Susan Wilcox, thanking her for sending him copies of the Scribblers Club journal in which a Fitzgerald poem appeared. "[My wife] and I," said Lindsay, "were specially interested in the brilliant work of young Fitz."
Later, Lindsay wrote notes of introduction for Fitzgerald when he went away for a year at Cambridge; the student thus met T.S. Eliot and Ezra Pound. "I thought that Vachel was a really great fellow, molto simpatico, and very good to me," Fitzgerald remembered.
Fitzgerald returned to Springfield briefly as an old man. In a letter to his old friend, New Yorker editor William Maxwell, he wrote,
I went back to Springfield one weekend in July in a rented Chevrolet, and I drove around the streets like the very ghost that was ahead of me on my bicycle forty years ago. The years intervening were like heavy plate glass between me and everything. The elms were gone, and the era, and the people. It is well that, as Yeats put it, all things remain in God.
Contributor: James Krohe Jr.
"No Castles, No Cathedrals" appears in The Third Kind of Knowledge: Memoirs and Selected Writings, edited by Penelope Laurans Fitzgerald, New Directions, New York, 1993
A memorial marker was erected in 2010 in front of Fitzgerald's boyhood home at 215 E. Jackson St.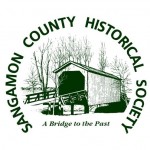 Original content copyright Sangamon County Historical Society. You are free to republish this content as long as credit is given to the Society. Learn how to support the Society.