In addition to photos posted or linked to elsewhere in this index, many websites offer photos related to Sangamon County's past, with little or no additional text. They are offered here for personal viewing.
Important: The Sangamon County Historical Society cannot guarantee that photos in the collections linked below are free of copyright restrictions. Anyone wanting to republish a photo should verify its copyright status first.
Collections are generally unindexed.
You know you're from Springfield, IL, when … : Largely a Facebook nostalgia site, but regular contributors such as Andrew Trello and Chuck Stone periodically include photos of particular historical interest.
@RichSaal: State Journal-Register photo editor's Twitter feed focuses on historic photographs from the SJR and its predecessors. Professional eye and technical virtuosity shows.
Springfield Photographs: Collection of 72 photographs collected by Rich Saal from glass-plate negatives made by photographers for The State Journal-Register and its predecessors. Some duplication with @RichSaal.
Illinois Photographic Collection: Often interesting, but very random, selection of 5,500 photographs from the holdings of the Abraham Lincoln Presidential Library. A lot of good material, but it takes some searching to find. And pay attention to the library's terms of use. Photos are available only for personal research and study; they may not be republished elsewhere.
Hidden in Plain Sight: The Material World of Early Springfield: Erika Holst, curator of collections for the Springfield Art Association, is attempting to compile every known image of pre-Civil War Springfield residents, as well as other views of the city, for an SAA site that is still under construction.
Illinois State Fair Museum Foundation slide shows: Five slide shows of photographs from past Illinois State Fairs, randomly organized. Compiled by foundation volunteer Tom Fitch.
Vintage postcards: Available on Ebay, CardCow and similar internet sales sites. Card subjects most often are Lincoln-related, but most include an unpredictable variety of other sites as well.
Postcards of Springfield, ca. 1905: Six postcards from 1905 and 1906 from the Robert Guymon collection at the University of Illinois Springfield.
Images for Springfield, Illinois: Very random selection of photos, some historical, produced by Google search. Despite search terms, not all photos are from Springfield or even anywhere in central Illinois.
Springfield Rewind on Facebook: Although the original Springfield Rewind web site is no longer maintained, the Facebook site remains accessible.
Illinois Postcards and Photos: Mixture of photographs and postcards tracing Route 66 through Sangamon County. Note that some information is incorrect (South Grand Avenue is mislabeled several times, for instance, and the name of at least one contributor, Donna Catlin, is misspelled).
Lost Springfield: Photographs from Illinois Capital Illustrated (1898). Photos of the homes of many prominent Springfield residents, taken from a volume originally published by the Illinois State Register. Other sections of Illinois Capital Illustrated, which documented "businesses, public buildings and other scenes," are not reproduced here.
Mercury Studio Collection, extensive collection of local photographs from the 1940s through the 1970s; negatives are held by Lincoln Library, but the photos have been made available online through the Illinois Digital Archives.
Springfield nostalgia on Pinterest. Melissa Peyton has collected a variety of old photos from The State Journal-Register, Springfield Rewind and the Sangamon Valley Collection at Lincoln Library.
What Was There: Site compares locations depicted in old photos to what's at the same address now.
Springfield Aviation Company collection: Several hundred photos, publications and newspaper clippings dating focusing on Springfield aviation history between 1927 and 1955.
Not online ( mostly): Arcadia Books' series of photo collections include Springfield: A Reflection in Photography; Oak Ridge Cemetery; The Illinois Statehouse; Springfield Aviation; Springfield's Sculptures, Monuments and Plaques; and Route 66 in Springfield, by various authors. Portions of some Arcadia books, such as Springfield Aviation and Sculptures, Monuments and Plaques, are on line, though even those are not always easy to find. Most, if not all, photographs in the Arcadia collections are from the Sangamon Valley Collection at Lincoln Library. More information at Arcadia Publishing.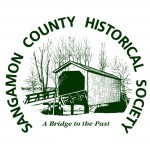 Original content copyright Sangamon County Historical Society. You are free to republish this content as long as credit is given to the Society.