The Springfield Branch of the NAACP annually awards its Webster Plaque to "a Black citizen of Springfield, who has contributed toward the uplifting of the Black race in any field of honest endeavor. …"
The plaque recognizes Dr. D.E. Webster (1897-1973) and his wife Elma (1900-75),
who instituted the award program in 1936.
D.E. Webster, a dentist, was branch president when the local group was overhauled and made more active in the 1930s, and his office was its headquarters. He also headed the Springfield Urban League and was the first black person named to the Oak Ridge Cemetery board of directors.
Webster, a graduate of the University of Illinois and Meharry Medical School, opened his practice in Springfield in 1927.  D.E. Webster reached the rank of sergeant major in the quartermaster corps during World War I. The Websters are buried at Camp Butler National Cemetery.
Additional sources: Dr. D.E. Webster obituary at the Sangamon Valley Collection, Lincoln Library; for more about the history of the Springfield NAACP, see Simeon Osby's oral history memoir at the University of Illinois Springfield.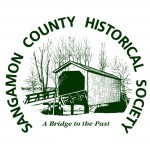 Original content copyright Sangamon County Historical Society. You are free to republish this content as long as credit is given to the Society. Learn how to support the Society.