The founding of Illiopolis was described in the Historical Encyclopedia of Illinois, Vol. 2  (1912):
In 1834, when the question of the removal of the State Capital began to be agitated, a beautiful city was laid out by John Taylor, Eli Blankenship and Governor Duncan, about a half mile south of the present village of Illiopolis … to which was given the same name – 'Illiopolis,' the City of Illinois.

The location of the village was described as the geographical center of the State, and as such, entitled to the State Capital when removed from Vandalia. Beautiful lithographic maps were issued, in which all the glories of the 'future great city' were revealed, and lots were placed on the market and a number sold … (But) The 'Long Nine' being successful in their efforts to have the Capital to Springfield, the project of building up a great city was abandoned by the proprietors."

On its current site, Illiopolis was created as a station on the Wabash Railroad in 1856.
Names: The village's second incarnation was called Wilson at first and was incorporated under that name 1866. It was renamed Illiopolis in 1869.
More: The Sangamon Ordnance Plant manufactured artillery shells on 20,000 acres just west of Illiopolis during World War II. Many of the structures remain visible in the area.A chemical manufacturing facility just outside Illiopolis, then owned by Formosa Plastics, was destroyed by a massive explosion on April 23, 2004, killing five workers.
Further information: Gene Hall wrote a folksy, but reflective history of Illiopolis – "More Than You Ever Want to Know About Illiopolis, Illinois" – in 1984.
Large portions of the 1956 Illiopolis Centennial Booklet, along with several other useful accounts, are reprinted on the village website; click on History of Illiopolis.
Today: Illiopolis, 25 miles east of Springfield and 16 miles west of Decatur on Illinois 72, had a population of 891 in 2010.
This entry has been edited to remove two Sangamon Ordnance Plant photographs unknowingly taken on private property.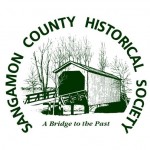 Original content copyright Sangamon County Historical Society. You are free to republish this content as long as credit is given to the Society.