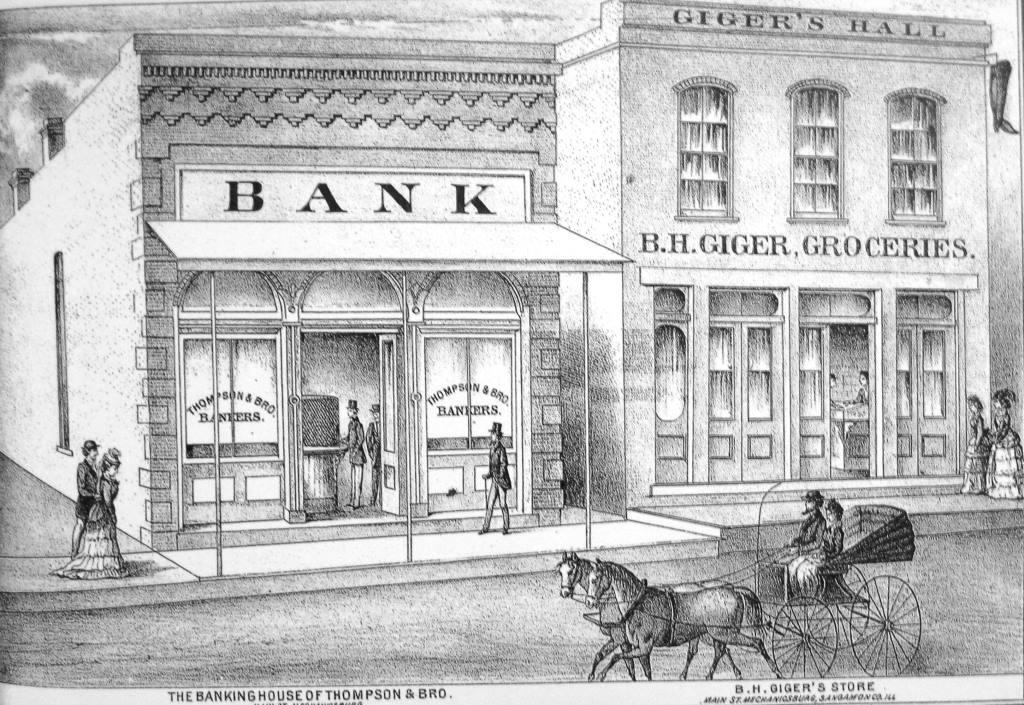 Mechanicsburg, south of Interstate 72 18 miles northeast of Springfield, was platted in 1832 by William Pickrell. In hopes of boosting settlement, Pickrell offered a free town lot to any "mechanic" who would build a building and pay for the title. (The term "mechanic" probably referred to a blacksmith or wheelwright.)
Miss Ida Freeto summed up Mechanicsburg's development in The Home Town: Its History and Activities, written for Mechanicsburg's centennial in 1932.
Several times in its history, the town has entertained hopes of being lifted out of its monotonous existence and "growing to some importance" as was expected in the early days. Once, in 1854, the citizens raised the money and built the Academy, a two-story brick building…. School opened with four teachers, and pupils came from all parts of the country to attend. For several years our town was quite an educational center; then for some reason the school went down and in 1862 was sold at auction to the district for a public school and this was the first free school in town.

Another prospect of a boom was when the Wabash railroad was projected. The first survey was made through the town, but some of the citizens fought it and it was built three miles north of town.
Freeto notes later in The Home Town that the original Academy building was torn down in 1899. A fire in 1902 burned "all the brick buildings on the north side of Main Street." Four more businesses were destroyed by another major blaze in 1929. 
The village's opposition to construction of  the Wabash Railroad through Mechanicsburg not only impeded business development, it meant Mechanicsburg residents had to find an alternative way for people and products to make their way to and from Buffalo, where the railroad was ultimately routed. The solution from the 1880s until 1904 or 1905 was the "mule line," a horse- and mule-powered trolley line that at least meant Mechanicsburg-area residents could reach the Wabash when weather washed out local dirt roads.
The mule line was discontinued when the Illinois Traction System ran a spur to Mechanicsburg. Passenger service lasted until 1928, and freight continued to be carried on the ITS until the 1950s.
Village residents also successfully opposed liquor sales for many years. Ida Freto described the results of an attempt to open a saloon in 1853.
(A) certain man in 1853, started a saloon in connection with a boot and shoe store, and the ladies of the town, headed by Mrs. Harriet Langston, raised the funds and purchased his stock of liquors, on condition that he would sell no more. They poured it into the street and attempted to set fire to it, but it would not burn. Contrary to his agreement, (the man) again started to sell it, and an agreement was entered into by the citizens, neither to buy anything of him, nor sell him anything as long as he sold liquor. The boycotting was effectual, and the man left town.
Abraham Lincoln was a regular visitor to the Mechanicsburg area — William PIckrel and his brother Jesse were friends and supporters of Lincoln — and residents in 2015 planned to erect a Looking for Lincoln sign board in recognition of the village's connection to Lincoln history.
Mechanicsburg had a population of 590 in 2010.
Hat tip: Thanks to Jim Allen for his tour of the Mechanicsburg/Buffalo area and his guidance to Mechanicsburg history. 
More information: 175 Years of Memories, published for Mechanicsburg's 175th anniversary in 2007, incorporates all the earlier anniversary histories in one spiral-bound volume. It is available in the collections of both the Tri-City Library in Buffalo and the Sangamon Valley Collection at Lincoln Library in Springfield.
Information on the former Mechanicsburg High School and its sports teams is available here. (Mechanicsburg now is part of the Tri-City School District; formed in 1938, Tri-City was the first unified school district in Illinois.)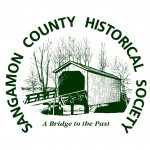 Original content copyright Sangamon County Historical Society. You are free to republish this content as long as credit is given to the Society.