Europeans first moved into what now is Loami Township in 1819, but the village of Loami didn't get its start until William and Ebenezer Colburn erected a steam saw and grist mill there in 1836. A settlement grew up around the mill, and the village was platted in 1854, according to the History of Sangamon County (Interstate Publishers, 1881).
The post office was moved from Lick Creek to Loami in 1856, and a general store, Colburn and Smith's, opened in 1858. The St. Louis, Jerseyville and Springfield Railroad reached Loami in 1881.
Loami was initially, but briefly, named Lebanon. The source of the name Loami is unknown.
Colburn's Mill struggled with a series of fires in its early years, according to the account in the 1881 History.
The first mill … had two runs of stone and was regarded as an excellent mill, nad a great improvement on the old horse-mill that had served the purpose of the neighborhood for many years. This mill was burned and another erected on or near the same spot; this met with like fate. Another was immediately rebuilt, and strange to say, it too was burnt. Phoenix-like the fourth one arose from its ashes, the present structure, which was erected in 1873. This mill is provided with modern improved machinery, and has two runs of stone with a capacity of fifty barrels in a twenty-four hours' run. No mill in the county has probably had a better run of custom than the Loami Mill, its reputation has always been maintained.
A group of Fourierists founded a short-lived utopian socialist community, the Integral Phalanx, in the Loami area in the 1840s.
Loami was buffeted by four tornadoes in five years in the early 2000s, The State Journal-Register noted in 2011. That may have given the community an unjustified reputation for bad weather, said state climatologist Jim Angel.
"I think it is just the luck of the draw," he told the newspaper.
Today:  Loami, 18 miles southwest of Springfield, had a population of 753 in 2010, down six percent since 2000.
Original content copyright Sangamon County Historical Society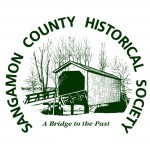 . You are free to republish this content as long as credit is given to the Society.