As of February 2021, nine sites had been designated historic landmarks by Sangamon County.
They were:
*The George Power Courthouse (Cantrall)
*The Brunk Farmstead (Rochester)
*The Lincoln-Van Buren Trail (between Rochester and Springfield)
*Sangamon Ordnance Plant water tower (Illiopolis)
*Inn of the Lamplighter swimming pool (6600 S. Sixth St., Springfield)
*Bethel Cemetery Buffalo
*Buffalo Hart Presbyterian Church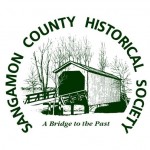 *Churchill Cemetery, also known as Bissell Cemetery orf German Hill Cemetery (Colt Road, Springfield)
*Mechanicsburg Christian Church
Original content copyright Sangamon County Historical Society. You are free to republish this content as long as credit is given to the Society. Learn how to support the Society.