Founded: When Europeans arrived, three villages of Pottawatomie and Delaware Indians were in the Berlin/New Berlin area. "During the first few years after the first settlers came, the Indians were as numerous as the whites," reports a New Berlin history in Lincoln Library's Sangamon Valley Collection.
Berlin was laid out in 1833 by Henry and Thomas Yates. But when the Northern Cross Railroad line was located two miles south of the community, many residents and businesses moved to be nearer the railroad. New Berlin, platted in 1838 and incorporated in 1865, remains the larger of the twin villages.
Pronunciation note: Local custom is to accent the two names differently: BerLIN, but New BERlin.
Today: Berlin, population 180 in 2010, is north of Interstate 72, 15 miles west of Springfield.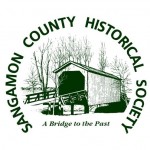 Original content copyright Sangamon County Historical Society. You are free to republish this content as long as credit is given to the Society.