Springfield had two Sugar Bowl restaurants, both on South Grand Avenue, which between them lasted from 1919 to 1959.
Teddy Gray (1892-1977) was the main operator of the 11th Street and South Grand Sugar Bowl, while Alex Karon (1893-1972) was primarily identified with the second Sugar Bowl at State Street and South Grand Avenue. The two, who had immigrated from Greece about the same time, worked together for years, according to Mary Dash, Karon's daughter.
Gray, born Theodore Georgiou, is credited with creating the first drive-in restaurant in Springfield at the 11th Street Sugar Bowl. The restaurant began providing curb service as early as 1926.
The 11th Street restaurant operated from 1919 to 1936, after which Gray opened Gray's Confectionery at Eighth Street and South Grand Avenue. He sold the confectionery — although it continued under the "Gray's" name — to Frank and Grover Schrock in about 1945.
According to Gray's son-in-law, Bob Jenkins, Teddy Gray and his son then opened a laundromat near Eighth Street and North Grand Avenue, but it closed after the young Gray contracted a fatal case of polio.
Jenkins said Teddy Gray also was part-owner of two local theaters — the Pantheon in the 800 block of North Grand Avenue East and the Southtown, in the 1100 block of South Grand Avenue East.  The Grays are buried at Roselawn Memorial Park east of Springfield.
Karon, born Alekos Karahouzites in Corinth, Greece, immigrated to the United State in 1907. Dash explained in a 2014 interview how the name change came about.
Karahouzites was working for a German employer in Vandalia in the 1920s, his daughter said, and he sometimes had trouble cashing his paycheck because his boss repeatedly misspelled "Karahouzites."
"One day, he gave my father a raise and put 'Karon' on the check," she said. "So, for $2, my father changed his name."
Karon moved to Springfield in about 1927, and he and Gray jointly established the second Sugar Bowl, which opened on April 17, 1927. The 1928 and 1929 city directories list them as partners in both restaurants, while the 1930 directory shows Gray as manager of the 11th Street operation and Karon as manager of the State Street outlet.
Both operations were restaurants, serving sandwiches as well as candy and ice cream dishes. Because of its location and longevity, however, the State Street Sugar Bowl is the better remembered of the two.
The Sugar Bowl II started out strictly as a confectionery, Dash said, but the shortage of sugar during World War II forced Karon to offer more restaurant dishes. Offerings included a steakburger, called the Karon-burger, and plate lunches; Karon's special-recipe chili also was a favorite, Dash said.
However, the Sugar Bowl is still often referred to as a confectionery. Karon made his own ice cream and chocolate syrup in a cauldron in the basement, State Journal-Register reporter Fran Bernard reported in a 1974 article, and he originally made his own candy.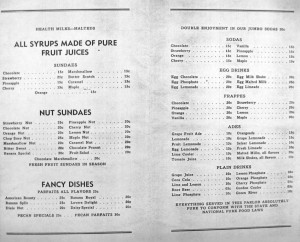 Sundaes and fresh fruit ades were among Sugar Bowl favorites (see undated menu, left), and Karon created his own concoctions as well: Riverton Milk was chocolate milk with ice, and a White Hall Sundae was chocolate ice cream with marshmallow topping.
Among the restaurant's patrons were Govs. Henry Horner, Dwight Green and William Stratton, but the Sugar Bowl was a particular favorite with teenagers.
"We went through a lot of love lives at the Sugar Bowl," Nancy Drake, another of Karon's daughters, told Bernard. "There were so many dates we fixed up."
The State Street Sugar Bowl closed in 1959, but the restaurant's ice cream bar has been reinstalled at D'Arcy's Pint restaurant, 661 W. Stanford Ave.
Alex Karon and his wife, Angeline (1906-93) are buried at Oak Ridge Cemetery.
More information: State Journal-Register article by Fran Bernard, April 5, 1974
Note: This entry has been revised. Thanks to John G. Drake, Alex Karon's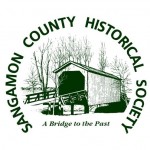 grandson, for pointing out serious omissions in the previous version. Thanks also to Bob Jenkins and Mary Dash.
Original content copyright Sangamon County Historical Society. You are free to republish this content as long as credit is given to the Society.