Founded: Thayer was incorporated in 1901, centered around a railway station on the Chicago & Alton line and a Chicago, Wilmington & Vermilion Coal Co. mine that, by 1910, employed 450 miners. As of 1910, Thayer had a population of 1,012, 40 percent more than lived there a century later.
The town is thought to have been named after one of the mine's stockholders, a Nathaniel Thayer.
Thayer's history, however, goes back much father, according to discoveries by a local researcher, Jim Allen, whose presentation on Thayer was reported in the August 2009 edition of Historico, the Sangamon County Historical Society newsletter. The first residents of the area, starting in 1828, apparently were families associated with the German Baptist Brethren, also known as Dunkards. Jacob Rauch boosted development of the area when he built a mill nearby in the 1830s.
Thayer grew rapidly after construction of the coal mine, helped by relatively enlightened administration by mine superintendent Ruffin Drew Fletcher, Allen found.
Once the mine closed, however, many miners moved elsewhere. Only one building, the village hall, remains along Main Street, which once was lined with businesses on both sides.
"All we have left is memories of the older generation and a few pictures of what this village looked like just 50 years ago and earlier," Allen told the historical society.
More: Route 66 ran along what now is Illinois 4 from 1926 to 1930, and Legends of America, a web site that covers the history of Route 66 (among other things), has an informative entry on the origin and coal mine history of Thayer.
 Other: Bryan Bolton, who grew up on a farm between Thayer and Virden, partnered with some of the most vicious criminals of the 1920s and '30s. Not only was Bolton a suspect in the St. Valentine's Day massacre in Chicago, he also worked with the Barker-Karpis robbery/kidnapping gang. Read more about him here.
Today: Thayer is along Illinois 4 about four miles south of Auburn. The 2010 population was 694.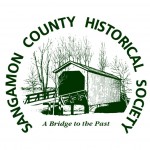 Original content copyright Sangamon County Historical Society. You are free to republish this content as long as credit is given to the Society. Learn how to support the Society.