James Adams (1783-1843), was a New Yorker who arrived in Springfield in 1821, apparently in flight from a forgery indictment in his native state.
Adams found himself involved in controversy — legal, political, and marital — in Illinois as well. Included was the famous case of "Sampson's Ghost," in which Adams faced off against Abraham Lincoln and won.
In 1828, Adams lived on the south side of Jefferson Street between Third and Fourth streets; the home is No. 21 on the reconstructed map of 1828 Springfield.
The 1881 History of Sangamon County says Adams was the county's first attorney. However, another review of Adams' career, written by Kent Walgren for the summer 1982 edition of the Journal of the Illinois State Historical Society, cautions that "only a vague sketch" is available of Adams' early life in New York. Adams, Walgren wrote carefully, arrived in Springfield "representing himself as a lawyer."
"With one exception, little is known of Adams's career as a lawyer," Walgren added. That exception was the murder trial of Nathaniel Van Noy, for whom Adams was one of the defense attorneys — presumably ineffectively, because Van Noy was found guilty and hanged.
Adams apparently fought in the War of 1812 from New York and, as an Illinois resident,  in the Winnebago (1827) and Black Hawk (1832) wars. The online Illinois State Archives do not include a James Adams from Sangamon County as a veteran of either of the Indian conflicts, but Adams' contemporaries, who were in position to know, seem to have accepted his military service as a fact. At any rate, Adams was known as "General James Adams" for much of his Springfield tenure.
In 1823, Adams was appointed a Sangamon County justice of the peace, a post to which he "was elected successively for many years," the History says.  He ran unsuccessfully for governor in 1834.
The Sampson's Ghost dispute arose when Adams, a Democrat, had a run-in with Springfield's Whigs  during a bitter 1837 election for probate judge. Someone signing himself "Sampson's Ghost" — widely believed among scholars to have been Lincoln — attacked Adams in six letters to the Whig-aligned Sangamo Journal. The "ghost" allegedly haunted a piece of property to which Adams had illegally claimed ownership, and the letters' author accused Adams of "fraud, forgery and Toryism," as Lincoln biographer Michael Burlingame summarized the complicated dispute.
"Lincoln's assaults backfired," Burlingame wrote. "Adams won the August election handily. … Although Lincoln had built a strong case, the public evidently considered his charges unfair and regarded Adams as a victim of persecution."
Scholar Douglas Wilson came to a more critical conclusion in his Honor's Voice: The Transformation of Abraham Lincoln (1999). "By abusing Adams with insinuations and slippery arguments … Lincoln had defeated himself at every turn," Wilson wrote. "… Learning this sour lesson was surely the one respect in which the Adams affair served Lincoln well."
Some Whigs at least got a laugh out of the affair, thanks to a frontier joke published in the Journal shortly before the election. (Paul Angle, in his Here I Have Lived (1935), attributes the joke as well to Lincoln, but it was signed only "X.," and there remains no proof of Lincoln's authorship.)
The recent noise and excitement made about the wounds and bruises received by Gen. Adams reminds me of an adventure which happened to me while travelling to this county many years ago. Not far from this place I met a sucker late in the evening returning to his home. "Good evening friend," said I, "How far is it to Springfield?" "Well, I guess it's about five miles." Are you just from there?" "Well, I am." "And," said I, "What's the news there?" "Well, there's nothing of any account but a sad accident that happened the other day. You don't know Gineral Adams? Well, the Gineral went to stoop down to pick some blackberries, and John Taylor's calf gave him a butt right –" "You don't say so. And did the Gineral die?"No, by G–, but the calf did!"
Late in life, Adams, who had helped found Springfield's Christian Church, became a Mormon — a close friend and adviser to Church of Latter-Day Saints founder Joseph Smith. The two had met in the 1830s, Walgren wrote:
The significance of Adams's relationship with Joseph Smith has been overlooked by historians of Mormonism, probably because Adams did not hold any leadership position in the church. Yet he was an early practitioner of plural marriage, one of ten men who participated in the first secret Mormon temple rites, and a surrogate father of Joseph Smith.
As a priest of the church, Adams "sealed" Smith to two of his wives in May 1843. In turn, in another Nauvoo ceremony that July, Smith sealed Adams in a polygamous marriage to one Roxena Repshire.
"It is not known," Walgren added, "whether Adams's wife Harriet was aware of the marriage."
Adams was preparing to move from Springfield to take up a judgeship at Nauvoo when he died of cholera in August 1843. He is buried at Nauvoo.
Adams' great-granddaughter was the late Margery Adams, whose former home on Clear Lake Avenue now houses the headquarters of the Illinois Audubon Society.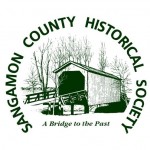 Original content copyright Sangamon County Historical Society. You are free to republish this content as long as credit is given to the Society.