The village of Chatham was laid out in October 1836 by Luther Ransom, who also built the first house in the community. Chatham got its first burst of growth following the building of the Alton & Sangamon Railroad (later the Chicago, Alton & St. Louis Railroad) through the area in the early 1850s.
"This marked the beginning of the development of the village of Chatham and it was later incorporated and has since had a conservative growth," according to the Historical Encyclopedia of Illinois, Volume 2, published in 1910.
Chatham is in Chatham Township, which may  trace its name back to William Pitt, Earl of Chatham, the British prime minister known as "the great commoner."
The township was first named Campbell Township, after its first European settler, John Campbell, who moved into the area in 1818. The township was renamed in conformance with a rule against naming townships after living people.
More information: The Chatham Railroad Museum, located in a former railroad station dating from 1902, is now owned by the village.
Other: The Caldwell Farmstead, off Illinois 4 north of Chatham, is listed on the National Register of Historic Places. It is privately owned and not open for tours.
Today: Chatham has long since gone beyond "conservative growth" — village population has jumped over the past three decades, benefiting from increasing suburbanization of Sangamon County, and the north boundary of Chatham now virtually abuts the south city limit of Springfield along Illinois 4. Chatham's population was 11,500 in the 2010 Census, a 34 percent increase from 2000.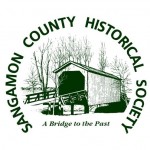 Original content copyright Sangamon County Historical Society. You are free to republish this content as long as credit is given to the Society.