Chinkapin Hill was the colloquial name for an area northwest of Springfield that was settled starting in the 1830s by a cluster of African-American farmers.
Curtis Mann profiled the Chinkapin Hill settlement in the Sangamon County Historical Society's newsletter, Historico, in September and October of 2008. Mann found that the first black farmers in the area were the families of Henry (1804-1875) and Louisa (1820?-66) Fry, who purchased 120 acres in 1836, and Richard Fry (1808?-66), who bought 145 acres nearby in 1838. (The Frys' relationship is not known.) Four black families were listed as owning land in the area as of the 1850 census.
One of the Chinkapin Hill farmers, Robert Hill, traveled with his wife to Liberia in 1858-59 and later announced plans to return to live in that country.
"He says the soil is fertile, yields well of the crops of the country, and is as good as the best lands in Illinois," the Daily Illinois State Journal reported on May 9, 1859. "The morals of the people are as good as in any society in which he ever lived. …  Mr. Hill gives it as his opinion … that for industrious, enterprising colored men, there is no better place than Liberia."
However, Robert Hill died in Sangamon County that November, before the family could return to Liberia.
The cluster of black farmers around Chinkapin Hill dissipated in the 1860s and '70s, Mann reported, as members of the original group died and their children found jobs elsewhere.
Note: A different version of how blacks came to settle at Chinkapin Hill is contained in a Directory of Sangamon County's Colored Citizens published in the late 1920s. Mann wrote that his research revealed that "the time of their settlement and their reasons for coming are different from the directory's account."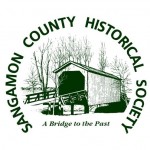 Original content copyright Sangamon County Historical Society. You are free to republish this content as long as credit is given to the Society.