Black residents of the Springfield area met on Feb. 12, 1858 to protest the Dred Scott decision by the U.S. Supreme Court and to express their opposition to proposals that the United States solve its slavery problem by encouraging blacks to emigrate to Liberia.
The meeting,  chaired by Landen Coleman, a Springfield shoemaker, endorsed a resolution drawn up by a five-man committee headed by P.L. Donnegan. The seventh and final section of the resolution, which cites the Declaration of Independence, is particularly eloquent.
We were born here, and here we desire to die and to be buried. We are not African. The best blood of Virginia, Maryland, Kentucky and other States, where our brethren are still held in bondage by their brothers, flows in our veins. We are not, therefore, aliens, either in blood or in race, to the people of the country in which we were born. Why then should we be disfranchised and denied the rights of citizenship in the north, and those of human nature itself in the south?
The full text of the resolution was published in the Feb. 18, 1858 Daily State Journal.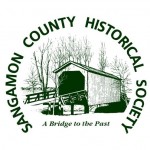 Original content copyright Sangamon County Historical Society. You are free to republish this content as long as credit is given to the Society.