The village of Dawson is near an old Native American trail that ran from Clear Lake to Buffalo Hart. The village itself was incorporated in 1883, two years after the Wabash Coal & Mining Co. opened a mine shaft in the area.  Mining continued until at least 1924, when the Dawson Coal Mining Co. closed.
Named: John Dawson was one of the "Long Nine" (along with Abraham Lincoln) who persuaded the General Assembly to move the state capital to Springfield.
Today: Dawson, which had 509 residents as of the 2010 U.S. Census, is off Old Route 36, 14 miles east of Springfield.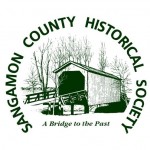 Original content copyright Sangamon County Historical Society. You are free to republish this content as long as credit is given to the Society.