The Edwards & Chapman Laundry was founded in 1905 by H.C. "Kelly" Edwards (1872-1938) and Alvin Chapman (1873-1958) and grew rapidly, moving into its own specially constructed building in the 100 block  of West Cook Street in 1908. The 26,500-square-foot facility made Edwards & Chapman Illinois' largest laundry on a single floor outside Chicago.
"Among other special features are a dining room, dressing rooms and shower bath in the basement free to all employees," the Illinois State Journal reported in 1911. Nearly 200 people worked for Edwards & Chapman.
Water for the laundry was specially treated in two 15,000-gallon tanks and "filtered through sea sand, and made as clear as crystal, and as soft as rain water," the Journal said.
Edwards sold his interest in the laundry to Chapman in 1927. The plant was leased in 1952 to F.W. Means Towel & Uniform. In 1981, the old laundry building was converted to the Vinegar Hill Mall.
Sources: Illinois State Journal, Jan. 15, 1911; Sangamon Valley Collection.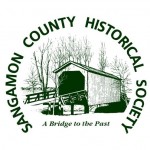 Original content copyright Sangamon County Historical Society. You are free to republish this content as long as credit is given to the Society.