Clark's Mill was on the South Fork of the Sangamon River near Rochester. The Clark brothers, Edward and Phillip, came to the United States from England with the express purpose of building a watermill.
They arrived in Sangamon County in 1819 and started construction of a mill near the forks of the Sangamon River. They soon learned they would not be allowed to build a dam across the river, however, so they moved their mill to the South Fork. In December of 1823, Edward Clark petitioned the Sangamon County Commissioners Court to erect a mill dam across the South Fork.
A Scottish millwright named Andrew Johnson and a man named James Gregory Sr. are credited with being the principal architects of Clark's mill. The mill also is remembered as the site of an early school, taught by Jabez Capps.
On Nov. 7, 1827, the Springfield firm of Gatton and Enos advertised that they were taking wheat at the mill of Edward Clark. On Sept. 2, 1833, the Clark brothers advertised for sale their flour and saw mill, along with about 2,000 acres of land.
Clark's Mill appeared in a number of lawsuits in 1834-35, and it was sold at auction on Aug. 11, 1834 to pay the debts of the Clark brothers. The law gave the brothers 15 months to pay their debts, however, and they temporarily succeeded in retaining ownership.
In April 1835, Edward Clark announced that he was carding wool at his mill. In June, the Clarks offered the mills for sale, advertising 750 acres of land, along with a "water flouring mill, a re-action saw mill and a wool-carding establishment". Joseph and Jacob Loose became owners of the mill after the foreclosure of its mortgage in October of 1846. The mill was sold back to Edward Clark, but the operation was closed by 1850.
Contributor: Curtis Mann
 More information: "Watermills of the Sangamo Country," Curtis Mann, 2004 (Lincoln Library Sangamon Valley Collection)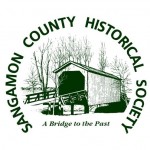 Original content copyright Sangamon County Historical Society. You are free to republish this content as long as credit is given to the Society.