Concordia Theological Seminary educated prospective Lutheran Church-Missouri Synod clergy from 1876 until 1975 1976 on a campus north and east of 12th and Carpenter streets in Springfield. (The Missouri Synod took over the facilities after Illinois State University, a Lutheran college unrelated to the present ISU, moved out of Springfield in 1870.)
The Springfield institution was set up from the beginning to emphasize "the practical aspects of kingdom service," as opposed to the mission of the Synod's St. Louis facility, which focused on the classical and theoretical aspects of ministry. Concordia students were expected to already have undergraduate degrees.
An anniversary program in 1965 estimated that Concordia Springfield had educated 3,500 Lutheran clergy by that point, with another 500 enrolled at the time.
The seminary's dominant personality in its early years was the director, the Rev. August Friedrich Craemer. A history of Springfield's Trinity Evangelical Lutheran Church, which was closely allied with Concordia for its entire existence, describes the Craemer regime:
Craemer controlled every aspect of the school. Every hour of the day, from the 5 a.m. rising to 10 p.m.  bedtime, was regulated. Weekly he would inspect each student's living quarters and "woe to the hapless culprit whose bed was not made."

His austerity reached legendary status — He pleaded several times with synod to cut back monies for his school; he refused any payment from Trinity; and he kept seminary household expenses to a point of poverty.

While he would on occasion exhibit his wrath, it often gave way to a heartfelt warmth and concern for the individual student. He never cancelled a class; and if he had to miss one for a Trinity funeral or some other function, the class was made up in the evening or on weekends.
Even after Craemer, Concordia set strict boundaries for its students. Students were finally allowed to have automobiles on campus in 1941, but even then only under the condition that they "were not to be used to cart girls around."
Concordia, however, struggled with finances for its entire existence, and the Missouri Synod voted in 1975 to move the school to the Synod's Fort Wayne, Ind., seminary. Concordia's last Springfield classes were held in the spring of 1976.
The state of Illinois now uses the site as the training academy for Department of Corrections employees.
Correction and hat tip: This entry has been edited to correct the year when Concordia held its final classes in Springfield. Thanks to alum Roger Hotopp (see comments) for correcting our error. 
*Photo caption note: Trinity Lutheran's church history dates the Martin Luther statue dedication as 1951. However, neither Springfield Mayor Nelson Howarth nor Illinois Lt. Gov. John Chapman, both of whom were in attendance, was in office in 1951. The dedication actually took place in 1957. (This caption has been corrected.)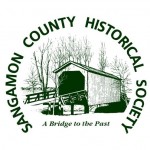 Original content copyright Sangamon County Historical Society. You are free to republish this content as long as credit is given to the Society. Learn how to support the Society.