Cook's Hall, at 122 S. Sixth St. on the east side of the downtown square, was Springfield's main venue for meetings, speeches and entertainment from 1858 to 1863. It was also known as Illiopolitan Hall. Abraham Lincoln spoke there a number of times, including a presentation of his speech, "Discoveries and Invention" on April 26, 1860.
Cook's Hall was largely converted to a billiards hall in 1863, a development that led the Illinois State Journal to lament on Sept. 10 that the city had no large, safe and suitable location for public gatherings.
"Shall we have no more public meetings? (N)o more lectures or concerts? Are we to be tied down in our amusements to the circus and the menagerie with their sweltering tents? It is time the public-spirited men, whom we certainly have, should move in this matter." (One of the necessary safety features of a new hall, the newspaper added, would be a "vomitory" that would allow as many as 1,000 patrons to exit quickly in case of a fire.)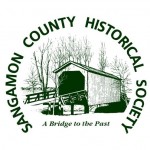 Original content copyright Sangamon County Historical Society. You are free to republish this content as long as credit is given to the Society. Learn how to support the Society.