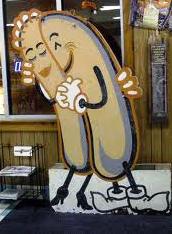 The Cozy Dog, a battered, deep-fried hot dog on a stick, was created by Ed Waldmire Jr. (1916-93) while he was in the U.S. Army Air Corps in Texas.* After discharge, Waldmire brought the idea back to Springfield, where the first Cozy Dogs were sold at the Lake Springfield Beach House on June 16, 1946.
Waldmire operated Cozy Dog outlets on South Grand Avenue and MacArthur Boulevard for a time. But the restaurant that made the Cozy Dog's reputation was a drive-in Waldmire opened in 1949 in the 2900 block of South Sixth Street, which also was along U.S. Route 66.
That original restaurant was replaced by a new version, just to the north, in 1996, but the Cozy Dog Drive-In remains an iconic stop for people traveling Route 66.
*While Ed Waldmire may have come up with his own version of the deep-fried frankfurter, variations — some using pancake batter, others cornmeal-based — apparently have been around since at least the 1920s.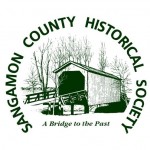 Original content copyright Sangamon County Historical Society. You are free to republish this content as long as credit is given to the Society. Learn how to support the Society.