The Culver Marble and Stone Co. and its offshoots, headed by Col. James S. Culver (1852-1911), were among the Springfield area's most prominent builders from the early 1870s until 1912. As a contractor, the Culver firm was given credit for more than 3,000 structures, many of them large and virtually all distinctive for their imposing stonework.
Many Culver buildings have since disappeared. The Illinois State Arsenal burnt in an arson fire in 1934, to be replaced by the Illinois State Armory. The old Springfield City Hall and the city's Carnegie public library were demolished to build more modern structures. Culver installed a new first floor at what is now the Old State Capitol in 1898-99, but that addition was removed when the building was restored to its Lincoln-era appearance in the 1960s.
Among remaining local Culver structures are the Illinois National Guard Military Museum (formerly the Camp Lincoln Commissary); Kumler Methodist Church at Fifth and Carpenter streets (Col. Culver's first project in Springfield); the Lincoln Park Pavilion; the Illinois Commerce Commission's headquarters (the former Leland Hotel) at Sixth Street and Capitol Avenue; and the former home of Gov. Richard Yates at 1190 Williams Blvd. The Oak Ridge Cemetery office on Monument Avenue just outside the cemetery is a characteristic Culver design.
Culver Construction Co. also handled the first reconstruction of Lincoln's Tomb in 1899-01, when the tomb was dismantled in order to replace its footings and stabilize the structure. The job ultimately included President Lincoln's final reburial, 10 feet below the tomb's burial chamber.
Outside the city, Col. Culver built monuments commemorating Illinoisans' contributions to the Civil War battles of Vicksburg and Shiloh.
The Culver Construction Co. operated from a stone yard that occupied almost a block from Eighth to Ninth streets along Madison Street. The facility boasted a 30-ton locomotive crane, a variety of equipment to cut, shape and polish stone, and complete blacksmith, carpenter, paint and steamfitting shops. "Culver Castle," as the main building was known for decades, was razed in the late 20th century to accommodate expansion by nearby St. John's Hospital.
"Three-quarters of the combined marble, granite and stone that comes into (Springfield) belongs to this company," Culver Marble and Stone once boasted in a newspaper ad. "Low prices for honest work does it."
James Culver was known as "Colonel" for most of his life, due to his longtime service commanding the Illinois National Guard's 5th Infantry Regiment. He was promoted to brigadier general in 1900, when Gov. John Tanner named him to head the Guard's 2nd Brigade.
Culver died of kidney disease in 1911. He is buried in Oak Ridge Cemetery. The Culver firm closed in 1912.
Sources: James S. Culver obituary in Illinois State Register, March 18, 1911; other Illinois State Journal and Illinois State Register articles and advertisements involving Col. Culver, Culver Marble and Stone and Culver Construction Co.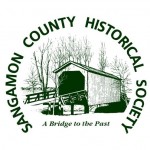 Original content copyright Sangamon County Historical Society. You are free to republish this content as long as credit is given to the Society. Learn how to support the Society.