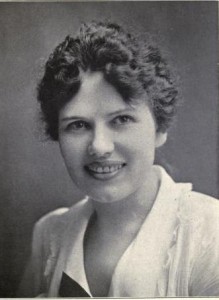 Nellie Browne Duff  (1888-1971) was a reporter, screenwriter, veterans' advocate, aviatrix and provocateur in Springfield from 1917 until the late 1920s. She later moved to the Bellingham, Wash., area, where she apparently continued with some of the same pursuits.
Duff is best known in Sangamon County as the tireless compiler of the Honor Book of Sangamon County, 1917-1919, a 1,200-page volume that recognized most, of not all, of the county's World War I military veterans and home-front supporters.
Before and after her Honor Book work, Duff was an author and "special writer," as she was described in the 1919 Springfield City Directory, for the Illinois State Journal.  Duff sometimes wrote for  the women's pages, on topics such as cooking or how women could knit while standing up in streetcars. However, she also covered news events, including stories in 1918 about a speech in Springfield by Clarence Darrow and about the demolition of the former Bingham House hotel at 10th and Monroe streets.
She also seems to have specialized in local home-front activities during the war.
As a journalist, Duff apparently had a personal following, since her articles often carried bylines during an era when the vast majority of newspaper stories were anonymously written.
Earlier, from 1913 to 1915, Duff wrote the screenplays or scenarios for more than a dozen silent film shorts. Titles included "Carmelita's Revenge," "The Sculptors Model" and "Her Fighting Chance." It is not clear if any of the films she contributed to still exist.
Duff also piloted early airplanes, although that seems to have been a brief avocation.
After being introduced to air flight during a Victory Loan air exhibition in Springfield in 1919, Duff bought her own plane and began to take flying lessons.
During the 1921 Illinois State Fair, the Journal reported that the "Springfield aviatrix" would fly past the Grandstand and release a cage of homing pigeons, each bearing a message to be delivered to a state government official. However, there are no subsequent stories, so it's not clear if the stunt actually occurred. In addition, no other coverage suggests that Duff continued to fly.
Another Journal article in August 1921 announced that Duff was to defend Vachel Lindsay in a debate against a Sinclair Oil Co. executive; the topic was to be "Is Vachel Lindsay a poet?" However, Duff apparently failed to appear as scheduled, and one of the organizers of the "Kaffee Klatsch" program had to stand in at the last moment.
Duff left Springfield in 1928 or 1929, first for a reporting j0b in Battle Creek, Mich., and then for Washington, D.C., where the 1930 U.S. Census lists her occupation  as a writer working in the field of "publicity." (Duff returned to Springfield, however, to write a sidebar when President Herbert Hoover rededicated Lincoln's Tomb on June 17, 1931; she covered the activities of Lou Hoover, the president's wife.)
Duff appears again in the 1940 Census as a reporter in Bellingham, Wash. By then, she seems to have shaved 10 years off her age, and she reported her birthplace to the Census as "Someplace." (The Duff family actually seems to have hailed from the Havana, Ill., area.)
Duff continued her activism in Washington state, taking a leading role in promoting a peace summit and student exchange program based on the International Peace Arch, erected in 1921 on the border between Blaine, Wash., and Surrey, British Columbia.
Duff died in Washington in 1971. She is buried in Ferndale, Wash.
More information: Illinois State Journal archives contain more than 400 articles by or about Nellie Browne Duff. Her collected papers are at Western Washington University in Bellingham.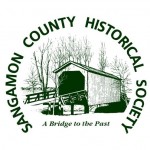 Original content copyright Sangamon County Historical Society. You are free to republish this content as long as credit is given to the Society.