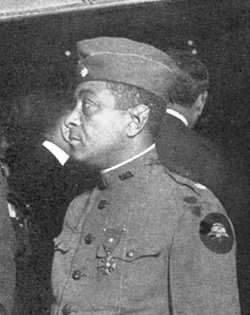 Lt. Col. Otis B. Duncan (1873-1937) was the highest-ranking black officer to serve in the American Expeditionary Forces in Europe in World War I. He was awarded the French Croix de Guerre for his war service.
Duncan, who came from a prominent black family in Springfield — his grandfather was William Fleurville, Abraham Lincoln's barber and friend —  joined the Illinois National Guard's all-black Eighth Infantry Regiment in 1902. He served with the regiment during the U.S's Mexican expedition against Pancho Villa in 1916.
When the  Eighth Infantry was called up for WWI service, it was renamed the 370th Regiment. Duncan, then a major, commanded the Third Battalion. He was promoted to lieutenant colonel after deployment to France in spring 1918.
Unlike most African American units during the war, the Eighth/370th's officers, as well as its enlisted men, were all black. However, the 370th's black colonel, Franklin Dennison, was replaced in Europe by a white officer, Regular Army Col. T.A. Roberts (coincidentally, also a Springfield native), leaving Duncan as the AEF's top black officer.
The 370th fought in the Argonne Forest, near Soissons, and then along the Ois-Aisne Canal. When the  Armistice took effect Nov. 11, the regiment had pursued the retreating Germans into Belgium. Duncan's Third Battalion captured Ferme-de-la-Riviere on Sept. 30, 1918.
After returning home, Duncan was promoted to colonel in the National Guard and took over command of the Eighth Infantry.
In addition to his military service, Duncan worked for more than 20 years in the office of the Illinois Superintendent of Public Instruction. He also was active in Republican politics in Springfield, running twice (in 1898 and 1906) for alderman in the First Ward. Although supported by the local Republican organization, he lost both times to white Democrats.
Duncan's home on North 13th Street was ransacked by a white mob during the 1908 race riot. Alleged riot instigator Abraham Raymer, after being found not guilty of more serious charges by three white juries, finally was convicted of stealing a sword that belonged to Duncan. Raymer was sentenced to 30 days in jail and fined $25.
Duncan is buried at Camp Butler National Cemetery. American Legion Post 809 in Springfield is named after Duncan. In 2020, the Springfield Park Board also renamed the former Douglas Park in Duncan's honor.
Duncan announces his war decoration (letter)
Lt. Col. Otis B. Duncan told his family about his receipt of the Croix de Guerre in a letter home. Duncan's letter was published in Springfield newspapers on Jan. 5 and 6, 1919.
Freidmont, France, Dec. 4, 1919

My Dear Mother:  I have not written to you for some days now and I expect you have been disappointed in looking for letters from me. Every day I have expected a letter from you but have not had one since arriving here, about November 14. I have been anxious to know whether you received the cablegram from me and I have been otherwise desirous of hearing from you and the folks, but I have received no letters at all since the armistice was signed. I received a cable on November 27 from my friend, Charles Gibbs, and also signed by Alice Williams, Miss Grady and Price Smith. It was to the Springfield boys. We were very proud of it.

I intend to write to Mr. Gibbs after I finish this letter, but in case I have not the time, I wish you would call him up and tell him that I received it, that I appreciate it very much and that I thank him for remembering us. We are all feeling fine. Some of the home boys were wounded, but none killed and I hope to bring them all back home to their folks. When that will be, I do not know. Soon, I hope. We are with a French division and it has been designated as one of the units of occupation. If we are to go with them, it will be some time before we get home. If we are not to still remain a part of their army, we may get off for home soon. But I have not the remotest idea what we are going to do.

We had a fine time Thanksgiving day. Held services at regimental headquarters. Singing, preaching and prayer, and I tell you mother, we had much to be thankful for. To have survived this war in which we have been engaged, is nothing else but a blessing from God and we realize it fully. General Vincendon, French commander of our division, was present and after the religious services, we presented him with our regimental colors and I made the presentation speech. Will tell you all about it when I get home.

Monday the general decorated six officers of our regiment for distinguished services in battle. I was awarded a croix de guerre with a division citation of which I am very proud. What it was given to me for is written in French and if I find that I am not to return soon, I will send you a copy in English. I cannot write this information to all my friends. I have not the time, but I want them to know it. You show "Doc" this letter and have him tell them. I should also like to have Mr. Blair know it. There is no strict censorship now and you may make all this public. A large number of brigade citations are to be made in this regiment, to both officers and men, for deeds of bravery on the battlefields, and we are justly proud. We want the people over there to know that we have given our full contribution to this war, that we have fought, bled and died for the grand and noble principles of the war, and the sadness is, that upon returning, we must meet those whose loved ones have lost their lives in this far-off land.

The mail orderly has gone for the mail and I do hope he returns with something for me from you. Usually, when I begin to write a letter of complaint to you about my mail, the letters come in and I shall hope for that result this time. Remember me to all my friends. Phone to Jim Adams that I received his letter and tell him this information is for him also.

Tell Dad I will have much to tell him now. Hope you are both in the usual good health.

With much love, your son,

Otis

Postal Sector No. 94
Original content copyright Sangamon County Historical Society. You are free to republish this content as long as credit is given to the Society.