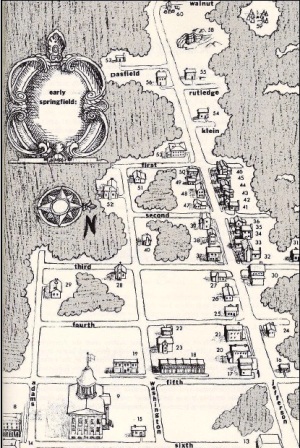 The map at right was created for Dr. Floyd Barringer's 1971 booklet Tour of Historic Springfield.
Fever River Research, in its  Aristocracy Hill  and Enos Park surveys, along with its archaeological survey prior to construction of the Abraham Lincoln Presidential Library and Museum, labels the map "Early Springfield, ca. 1840."
However, the Barringer map actually seems to simply identify locations of historical interest over the period from 1828 to (mostly) 1840, not all of which existed contemporaneously. For instance, the Indian Camping Ground (No. 59 at top right) was long gone by the mid-1860s, when Robert Rudolph built the Rudolph Opera House (No. 13, bottom right edge). While the map can't be taken literally, it nonetheless  is still a useful guide to significant locations in early Springfield history.
A larger version of this map makes up the cover of Tour of Historic Springfield. Legend numbers below apply to both maps, but this map displays only Nos. 8-9 and 13-60.
According to Barringer's legend, sites shown are:
8. Lincoln-Herndon Law Office
9. Old Statehouse
13. Rudolph Opera House
14. American House
15. First Jail
16. Tucker Cabin
17. John White Blacksmith Shop
18. Lincoln-Stuart Law Office
19. Joshua Speed Store
20. Spottswood Rural Hotel
21. Charles Boyd Tailor Shop
22. Aunt Creecy's Cabin
23. Rev. John Bergen Residence
24. Thomas Strawbridge Saddler Shop
25. Gen. James Adams Residence
26. Levi Goodan Cabin
27. Fowler's Carpenter Shop
29. First Church
30. Gordon Abrams Residence
31. William Butler Residence
32. Pascal Enos Land Office
33. Hooper Warren Printing Office
34. Dr. Gershom Jayne's Cabin
35. Archer Herndon Tavern
36. Elijah Slater Tavern
37. Jabez Capps'  Shoemaker Shop
38. Peleg Canedy Book & Drug Store
39. Elijah Iles Store
40. Polly's Cabin
41. First Sangamon County Courthouse
42. Nathan Cromwell Store
43. Ebener Capps Store
44. Mordecai Mobley Tavern
45. Jessie Cormack Tinner's Shop
46. Col. Thomas Cox Residence
47. William Carpenter Store
48. Buckhorn Tavern
49. John Taylor Store
50. Thomas Price Tavern
51. Charles Matheny Residence
52. Dr. John Todd Residence
53. Abrams Hotel
54. John Kelly Cabin
55. Cox Ox Wheel Grist Mill
56. Cox Distillery
57. First School
58. Stone Quarry
59. Indian Camping Ground
60 William Proctor's Tannery
More information: Tour of Historic Springfield, Dr. Floyd Barringer (1971). Available from the Sangamon County Historical Society ($10) or can be read (not checked out) at Lincoln Library's Sangamon Valley Collection.
Original content copyright Sangamon County Historical Society. You are free to republish this content as long as credit is given to the Society.